Polypropylene ropes are synthetic and possess a variety of unique qualities. Polypropylene rope is particularly suited for use around water and will not rot due to water and is resistant to mildew. This rope is also produced in a variety of colors making it a common choice for barriers at golf courses, parks or even power plants. Because polypropylene floats, it is used to designate swimming lanes in pools. Commercial fishermen commonly utilize this rope, especially in crab and lobster lines. It can also be used for buoy moorings, aquaculture, and net lines.
Pros & Cons
Positives: dielectric/insulator, floats, water resistant, lightweight, low-cost, UV resistant, color variety.
Negatives: stretches (although this could be a positive), susceptible to friction.
Most Common Uses: Work around electric lines, marine applications, swimming-lane barriers.
Extraordinary Qualities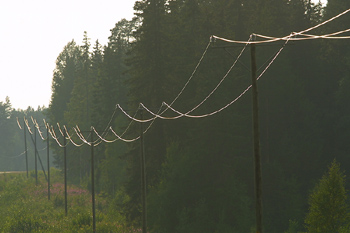 Dielectric ability is an important quality of polypropylene rope. Should this rope touch a live electrical wire it will not conduct the electric current. Because polypropylene rope acts as an insulator, electricians and tree workers who work around live electrical wires use polypropylene rope. When using this rope for hauling or hoisting, attention should be given to any abrasions against the rope as it can melt from friction. Polypropylene also lacks stretch memory. When stretched, it will not return to its normal size.
This rope has wide capabilities. If you need a strong rope to be used in or around water, or if you anticipate possible exposure to electricity, then polypropylene rope will be your best choice.