Do you need a custom size?
We specialize in
Custom Nets

!
Give us a call at
1-800-331-2973
Rush Services Available!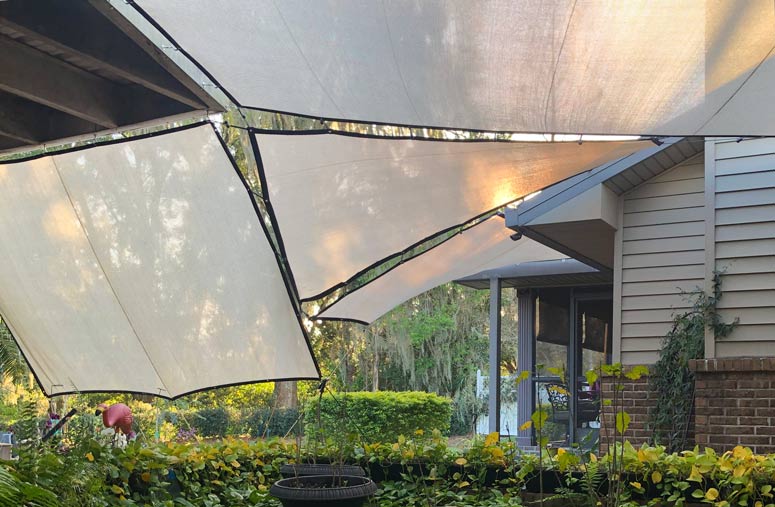 Looking for Recommendations?
Read our article: The effects of different colors of shade cloth on plants, animals, and people.
Shade Cloth Features
Installation — All shade cloth comes with a grommeted border allowing for easy installation . High-density polyethylene (HDPE) shade cloth is also 20-25% lighter than woven styles.
Ventilation and water permeation — The open lockstitch design allows for water permeation and ventilation while reducing wind speed and heat build-up.
Construction — Shade levels are constant throughout product life, and the lockstitch-knitted design resists ripping, tearing and fraying.
UV Protection — High-density polyethylene is UV-resistant.
Chemical resistance — HDPE shade cloth resists horticulture chemicals, sprays and detergents.
Moisture protection — Less evaporation prevents a loss of moisture.
Product sizes — Our shade netting is available in widths up to 34 feet.
Cost effective — No edge taping and minimal sewing are required thanks to knitted lockstitch.
Color Guide
BLACK
The shade cloth with the greatest choice of shade values & widths. Ideal for every application. Naturally resists the sun's harmful UV radiation with long life.
WHITE
White shade cloth reduces heat build-up by reflecting the sun's powerful radiation. White's reflectivity has improved diffusion underneath. Aesthetically pleasing, common in greenhouse applications.
GREEN
Common in nurseries and other decorative/agricultural applications. Commonly found as windscreens, privacy screens, and tennis courts.
ALUMINET
Aluminet has maximum radiation reflection on both sides, at night and day. This product substantially reduces heat build-up in greenhouses, skylights, patios etc. Reflectivity maximizes light diffusion underneath. Has a cooling effect as well as a high tech appearance. Ideal for retail garden centers. Aluminet Technical Details
Crop Protection for UV and Heat Sensitive Plants
Other applications include windscreens, temporary fencing, tennis courts, hail protection, bird netting, swimming pool covers, truck tarps or anywhere shading or cooling is desired.

All shade cloth orders will include a black webbing border with brass grommets.
All shade cloth is cut-to-order and therefore is non-returnable.
Custom Shade cloth Fabrication
Custom fabrication and configurations are available upon request.
If you would like a consultation for custom shade cloth products send us an RFQ and we will get you a quote at no charge.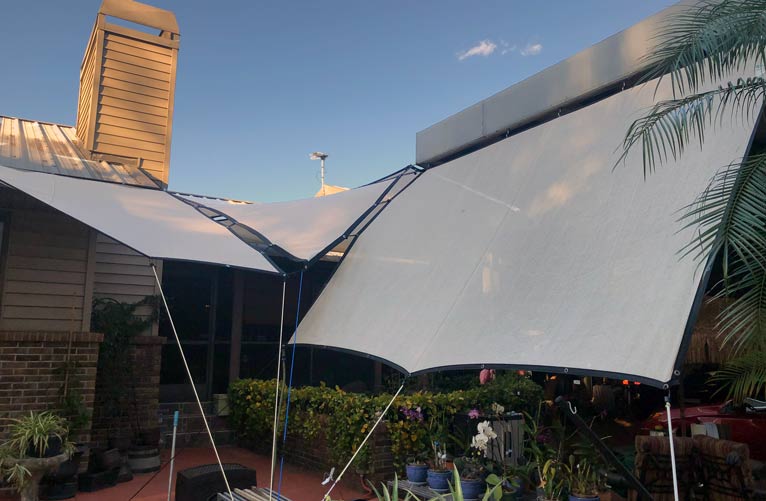 Shadeloth in brown shown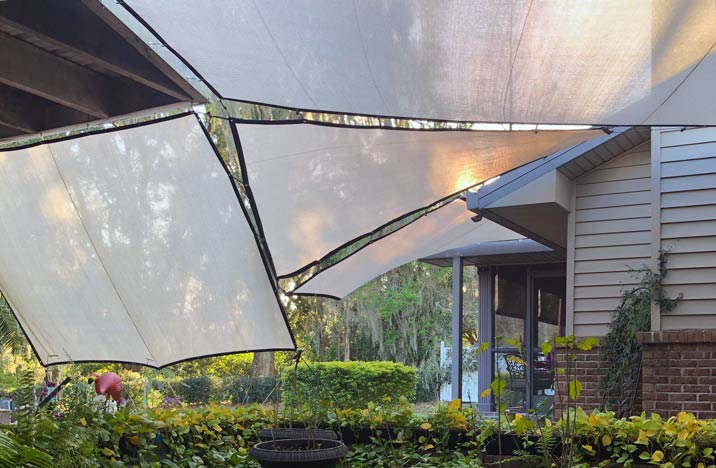 "That entire area was full Florida sun pretty much from mid morning to late afternoon. We couldn't sit out there, which we love to do. We couldn't grow anything in the planter because of the full hot sun. Whatever we tried to plant in there got burnt up from the sun. These shade cloths took care of that. We absolutely love them. Again thanks for you and your team's expertise. Even when my measuring didn't come out quite right, you made it perfect!""
- Evelyn
Thank you, Evelyn! We love getting such positive feedback. Your installation photos look great!