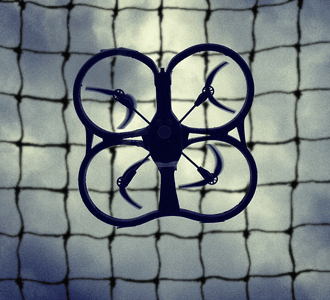 In-Stock Drone Netting Panel Pricing
Order 1-3/4 Inch Protective Panels
Order 4 Inch Protective Panels
View 1-3/4" Mesh Drone Netting Panel Pricing Chart
| Item # | Size | Price |
| --- | --- | --- |
| PNP-21-1010 | 10' x 10' | $246.75 |
| PNP-21-1020 | 10' x 20' | $493.50 |
| PNP-21-1025 | 10' x 25' | $616.88 |
| PNP-21-1520 | 15' x 20' | $740.25 |
| PNP-21-15100 | 15' x 100' | $2,793.00 |
| PNP-21-2020 | 20' x 20' | $987.00 |
| PNP-21-2040 | 20' x 40' | $1,974.00 |
| PNP-21-2050 | 20' x 50' | $2,273.25 |
| PNP-21-2060 | 20' x 60' | $2,623.95 |
| PNP-21-2525 | 25' x 25' | $1,542.19 |
| PNP-21-2550 | 25' x 50' | $2,646.00 |
| PNP-21-25100 | 25' x 100' | $3,260.25 |
| PNP-21-3030 | 30' x 30' | $2,220.75 |
| PNP-21-35100 | 35' x 100' | $3,648.75 |
View Larger 4" Mesh Drone Netting Pricing Chart
| Item # | Size | Price |
| --- | --- | --- |
| PNP30-1010 | 10' x 10' | $220.50 |
| PNP30-1020 | 10' x 20' | $441.00 |
| PNP30-1025 | 10' x 25' | $551.25 |
| PNP30-1520 | 15' x 20' | $661.50 |
| PNP30-15100 | 15' x 100' | $2,205.00 |
| PNP30-2020 | 20' x 20' | $1,344.00 |
| PNP30-2040 | 20' x 40' | $1,764.00 |
| PNP30-2050 | 20' x 50' | $1,926.75 |
| PNP30-2060 | 20' x 60' | $2,115.75 |
| PNP30-2525 | 25' x 25' | $1,378.13 |
| PNP30-2550 | 25' x 50' | $2,126.25 |
| PNP30-25100 | 25' x 100' | $2,493.75 |
| PNP30-3030 | 30' x 30' | $1,837.50 |
| PNP30-35100 | 35' x 100' | $2,919.00 |
If you need custom drone netting solutions for your project, please don't hesitate to call us at 1-800-331-2973. Our Sales team will be happy to assist you.
Drone Racing Nets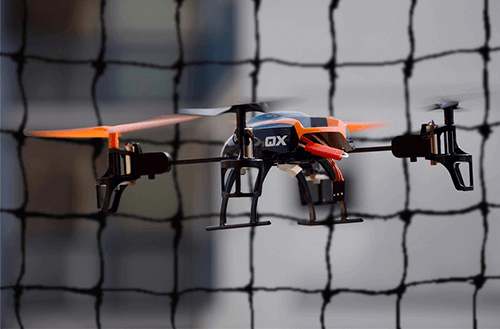 Compete with confidence and safety
Quickly becoming the sport of the future, drone racing is a fast paced test of reflexes and piloting skill. Many organizations are rushing to be the first to successfully mold drone racing into the winning formula for an engaging spectator sport. Many are hosting in person races like traditional stock car racing. Others, including our client The Drone Racing League, are using technology to give viewers at home a view from the cockpit. All of them understand the need for drone safety netting.
Drone racing nets can be used to protect pilots and spectators alike from potential harm if a drone flies off course. Race organizers use our netting to surround the track and even the pilots, who are usually viewing the race from their drone's point of view through virtual reality goggles. The Drone Racing League will be using our nets to prevent crashes with the elements of the environment that could be potentially devastating to their drones.
Put US Netting's Drone Racing experience into play at your next event.
Request a Drone Racing Net Quote
Call Today
Custom Drone Safety Nets
Custom Protection for your drone
We understand that drones come in many different shapes and sizes, with different propulsion designs and uses. The environments they are used in are just as varied. Custom Drone Netting Panels can add safety in any flight scenario.
Environmental hazards can be prove dangerous to your drone and those around you. Even small impacts with objects can cause drones to fly out of control, potentially colliding with ground or others. By the effective placement of drone netting these often costly and sometimes dangerous collisions can be avoided.
Drone net panels can be made to fit your application: with webbing and grommets or rope borders for easy setup. A variety of cord diameters can be chosen from depending on the strength and speed of your drone's rotors and mesh sizes can be selected to match the size of your drone to prevent accidental escape.
For more information on custom drone panels you can call us or request a quote through the link below.
Request a Custom Drone Netting Quote
Call Today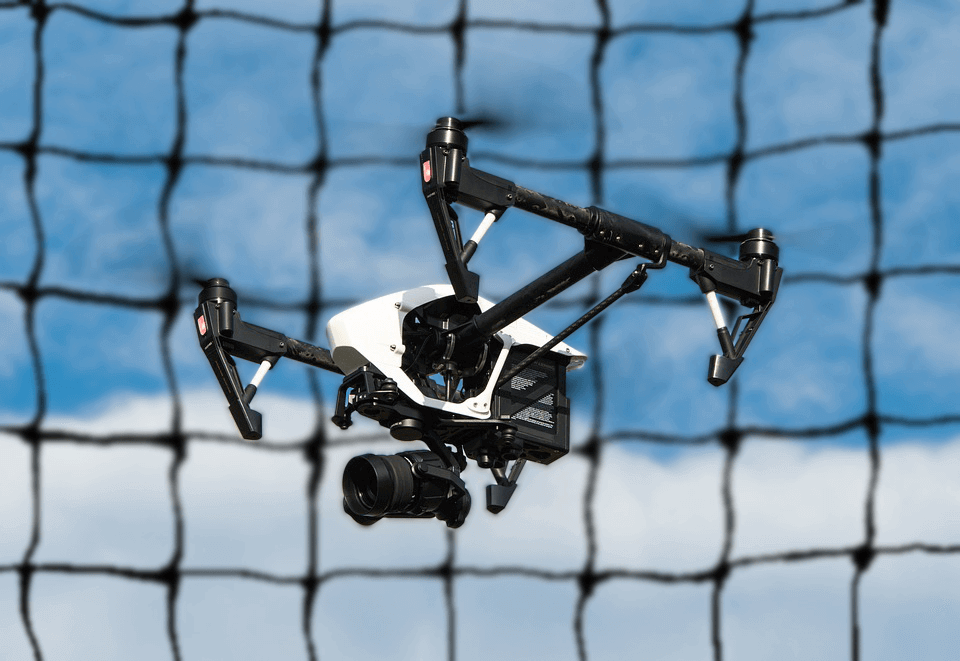 Drone Flight Cages
Contain the action
During training exercises or at conventions and events drone flight cages allow pilots and spectators to view the action from safety. Although these enclosures can range in size anywhere from a large university drone flight pens to small indoor drone cages for demos at industry events one thing is constant: US Netting is the premier name in quality drone netting.
We've helped the leading names in drone technology innovation show off their capabilities through the use of our drone safety netting. Our work with Harvard University allowed their event organizers to innovate their presentation and unleash the full potential and power of their drones by placing the spectators inside of the cage. This allowed spectators to watch video from first person view drone footage (called FPV Drones in the industry) from within the safety of our netting. Read more about our work with Harvard University.
Need a Drone Flight Cage for your event or facility?
Shop Drone Flight Cages
Call Today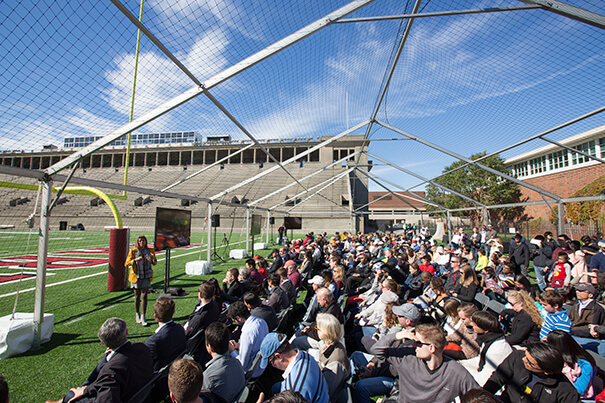 ---