In-Ground Post Mounted Loading Dock Safety Net
Net Details
4 Feet Tall
Webbing Material: 1 inch wide polyester
Color: Safety Orange
2-inch Webbing top weight bearing strap
Mesh Size: 6 inch on center
(4) 3 Foot Adjustment Straps on each side
Snap Hooks & Cam buckles on each strap
Included Hardware
(2) Removable posts
(8) Eye Bolts
Post Sleeve for securing post in ground
In-ground bollards provide anchor points capable of bringing a 13,500 lb. forklift to a stop at 5 mph while prtecting dor rails from accidental impact.
Our in-ground kits include an insert sleeve designed to be cemented into the ground, which will hold the bollard in place and allow for easy bollard removal and replacement.
Product Code
Door Opening:
Net Price:
Buy Now:
OHIG46-P
6 Foot
$2035
OHIG48-P
8 Foot
$2145
OHIG49-P
9 Foot
$2172
OHIG410-P
10 Foot
$2194
OHIG412-P
12 Foot
$2365
OHIG414-P
14 Foot
$2475
OHIG416-P
16 Foot
$2572
OHIG418-P
18 Foot
$2585
OHIG420-P
20 Foot
$2677
OHIG422-P
22 Foot
$2782
OHIG424-P
24 Foot
$2887
OHIG426-P
26 Foot
$2992
OHIG428-P
28 Foot
$3097
OHIG430-P
30 Foot
$3307
OHIG432-P
32 Foot
$3354
Net Storage Device - $169.99
---
Available Net Storage Device Add-On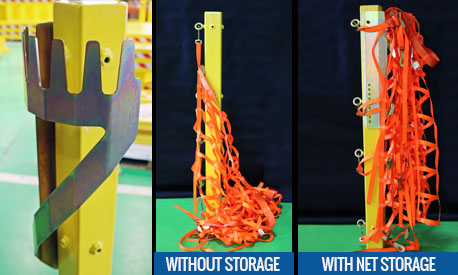 Part Number: OHNSD-PR
Price: $169.99
Steel net storage device bolts onto the above ground, in-ground and existing bollard safety nets in order to stow away your net and prevent tripping hazards on nets that are on the ground. Comes with attachment hardware.
---
The Defender Line: Safety Barriers and Loading Dock Products
Loading Dock Safety Barriers: Redefined
US Netting has taken the concepts behind common safety barriers made with static materials such as PVC guard arms, chains, and screens, and has improved upon them in every way. Defender Nets provide protection from the floor up unlike other safety chains and arms which allow for falls to occur under them. Competitors' safety screens made with repurposed debris netting are susceptible to puncture damage from materials and forklifts unlike our standard net mesh construction. The polyester webbing our Loading Dock Safety Net™s are made with possesses unrivaled elasticity allowing the system to absorb most common impacts while receiving little to no damage.
Our painless purchase process, requiring no on-site consultations or blueprints unlike our competitors, is designed to make premium safety products accessible to everyone, from the one man shipping and receiving team to the enterprise warehouse facilities across the nation. Don't want to "locate a rep"? No problem: just order online through our secure checkout system. We aren't afraid to show our prices either!
Combine all of this with the ease of our one man install and you have a safety barrier system that offers more protection, requires less maintenance, and is as easy to install as it is to purchase.
---