Constructing heavy duty long-lasting barrier netting is something that we view with great pride. US Netting's 25+ years of experience affords us to build barrier nets for some of the countries largest outfits including NASA, BP, Intel, and more.
Heavy-duty industrial strength nylon barriers, safety nets, or solutions engineered for specific conditions. No job is too large for us to complete. Thousands of our barriers are keeping industries across all of America safe each day.
Custom barrier nets built with top-notch quality directly in the United States with accessories including hardware: sewn-in and free motion, as well as grommeted for fastening. Our team can also create custom hardware for special attachments.
Let our reps help you through the custom barrier construction process. Call 1-800-331-2973 or email us today.
Product Details
Custom fabricated safety barriers hand made in the USA for your application. The safety barrier net is cut to order, with either knotless or knotted netting. These nets come in a vast array of tensile strengths, perfect for whatever you are looking to keep safe. Black ( additional colors available on request ) webbing surrounds the perimeter of the net with grommets placed evenly for attachment.
Usage Examples
Custom safety barriers can be most often found in company warehouses, amusement parks, and retail spaces. Bright colors are often used to signify areas of concern, and high visibility orange and red colors for dangerous areas.
Technical Specifications
We offer lightweight, medium-duty and heavy-duty safety barrier netting. Light duty product starts at 100lb tensile strength. Our heaviest grade of safety barrier net has a tensile strength of 1145lbs.
Choose between knotless or knotted barrier netting to view specs.
Sports barrier netting for all applications including spectator safety nets, high fence, foul ball containment, driving range nets and enclosed practice or training areas. All nets are available with rope or webbing borders. Cable, snap hooks, and additional lines for installation are also available.
Vast Variety of Materials and Sizes
Custom sizes, and attachments available
Customers include: Large Universities, Sports Facilities, and Professional Stadiums
Warehouse Safety Barriers
When you pair up steel bollards with polyester webbing, you get superior strength. Configure steel bollards, wall brackets, and our polyester webbing to configure the safety area you need.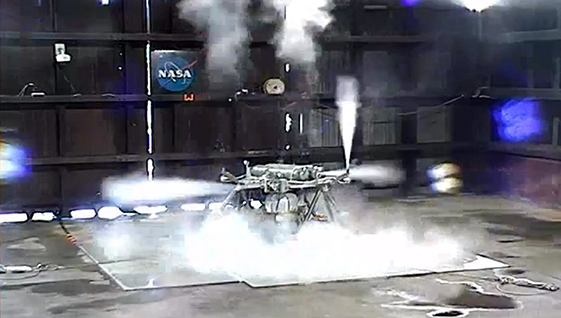 Featured Job - NASA Safety Barrier
We paired up with NASA in order to build a very special barrier net. Follow the link to read more about how we helped secure Marshall Space Flight Center's Robotic Lander Test Facility.
OTHER POPULAR PRODUCTS