Warehouse Barrier Net Systems
Protect valuable and critical equipment, or protect personnel from hazards with our Warehouse Barrier Net Systems. Combines Wall mounting brackets and posts to surround areas with safety. Each system can be tailored to your needs, whether areas in need of protection are corners, along walls, or islands.
Cordon off zones
Prevent asset damage
Stop forklift impacts
Modular design
Easy access when needed
Superior to metal rails
Easy Installation
Unlike other warehouse safety barriers there is no on-site technician needed for install. Setup can be accomplished by one person and we supply you with all of the hardware needed including the drill bit and even a marker for labeling measurements.
See how simple it can be to prevent forklift accidents.

View Installation Guide PDF
Flexible Warehouse Safety Barriers
Our Warehouse Barrier Net Systems are as flexible in construction as they are in application. Deploy them to guard valuable and critical equipment from forklift impacts, or protect personnel from hazards.
Wall brackets come in sets of 4, one for each hook on a side of the net. Wall brackets can be aligned vertically or horizontally
The steel post is detachable from its base without the use of tools. Nets can be attached to any of the 4 sides of the post.
Each post can have eye bolts on each of its 4 sides. Detach and stow the net for quick access. Posts can also be removed from the base when full access to the protected area is needed.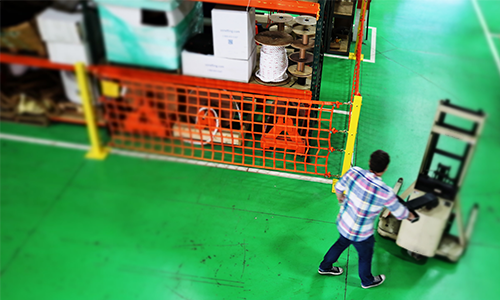 Traditional warehouse safety barriers are made with metal rails and crossbeams. Even after minor impact these barriers are often left bent and in need of replacement. Since most are comprised of one piece the whole system must be changed out.
Our Warehouse Barrier Net System was designed to be flexible, using the elastic action of polyester webbing to absorb the force of impact. Where other forklift railings would be left bent and in total disrepair our nets sustain little to no damage. Even if upon inspection there is damage to the system you can order only the pieces you need, rather than an entire unit.
We offer a range of custom fabrication services. We can create custom nets, posts, mounting hardware, or entire systems to meet your needs. Contact us to request a custom quote today!