Wall Mounted Loading Dock Nets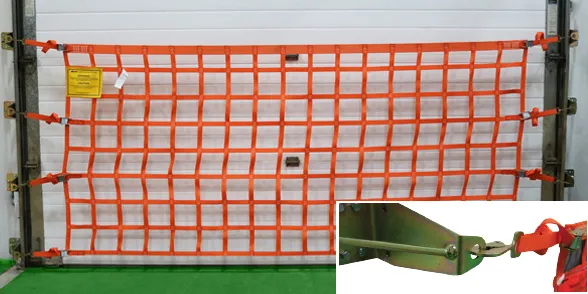 Fully Adjustable
Lightweight Loading Dock Safety
Zero Maintenance
Cost Effective
Great for Personnel
Stops hand trucks and carts
Meets all OSHA requirements
Custom Sizes Available
Above-Ground Loading Dock Safety Nets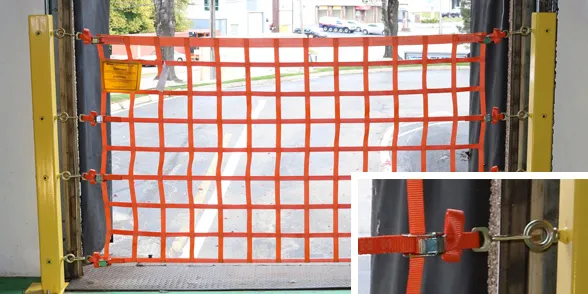 Heavy Duty Bollards
Dock Door Upright Protection
Adjustable Snap Hooks
Available up to 32'
Zero Maintenance
Replaceable Nets
Rated for 13,500lb. Forklift @ 5MPH
Meets all OSHA requirements
---
In Ground Loading Dock Nets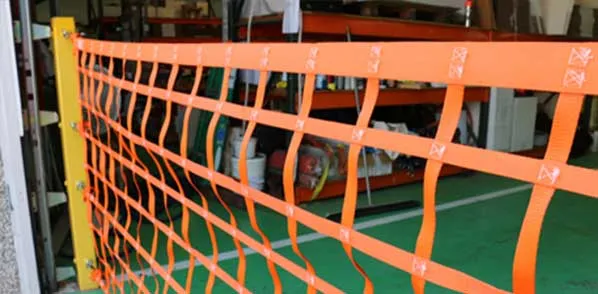 Heavy Duty Bollards
Dock Door Upright Protection
Adjustable Snap Hooks
Available up to 32'
Zero Maintenance
Replaceable Nets
Rated for 13,500lb. Forklift @ 5MPH
Meets all OSHA requirements
Existing Bollard Safety Nets™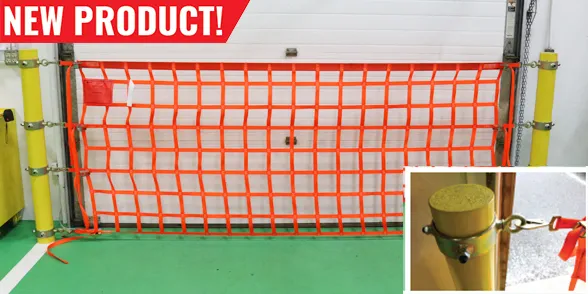 Retro-fit Solution
Net & Chain Solutions
Meets all OSHA Requirements
Net has 3,000lb breaking strength
Accommodate Existing Bollards
Use with multiple nets
USA Steel Construction
Use anywhere
Warehouse loading dock safety plays a significant role in keeping workers and equipment safe. US Netting produces the highest-quality loading dock nets in multiple sizes, thicknesses, mesh types and breaking point strengths to ensure optimal performance and durability. Discover the best loading dock safety nets at US Netting.
Protect Employees with Loading Dock Safety Barriers
Warehouses and loading docks are dangerous places. Hazards such as equipment malfunction or failure, human error, dropoffs, inclement weather and slick pavement are daily threats to employee safety. Our exceptional loading dock solutions are engineered to help prevent accidents and injuries.
Our loading dock safety nets are available in various styles to suit your unique needs. Whether you need post-mounted or wall-mounted adjustable loading dock nets, we have a wide variety of safety solutions available for every scenario. Do you have bollards in place already? If so, our Existing Bollard Safety Net Package is for you. These products are made to fit tight locations and are available with standard-ring and split-ring configurations for the best fit.
Why Choose US Netting Loading Dock Safety Nets?
We specialize in manufacturing premium netting for all types of applications, including workplace safety. We pride ourselves on crafting the very best custom mesh nets and industrial products for industries that need reliable safety barriers to protect employees from workplace perils.
Custom sizes, shapes, colors and configurations are available.
We proudly produce our loading dock nets in the USA.
Loading dock netting requires virtually no maintenance.
All of our loading dock safety equipment meets or exceeds OSHA guidelines for fall protection.
No on-site consultations or blueprints are required.
Our easy single-person installation saves time.
Superior construction absorbs impact with little to no damage in most cases.
FAQs About Adjustable Loading Dock Nets
Do you want to learn more about how US Netting can improve your warehouse loading dock safety? Here are some answers to frequently asked questions.
Why Do I Need Loading Dock Safety Nets?
Installing safety barriers in and around areas frequented by forklifts alerts and reminds employees that the site is unsafe. This is crucial to help employees be aware of their surroundings, especially around forklifts, which is necessary to avoid collisions and other incidents. With the aid of the visual reminder, employees take fewer risks and are more alert and cautious.
Are Your Loading Dock Nets OSHA Approved?
Yes, all of our loading dock safety nets meet or exceed all OSHA 1910.28 fall protection requirements for walking-working and forklift-use environments.
Do You Have Other Loading Dock Solutions?
If you need the extra security of gate-style safety barriers, we offer Defender Gate™ folding steel gates for powerful protection for doors, loading docks and hazardous ledges. An optional Safety Guard attachment protects from the floor up by blocking the lower portion of the loading dock safety gate. This helps stop people or equipment from slipping underneath. The Defender also offers enhanced protection from injuries caused by dock equipment — it can stop a 13,500-pound forklift traveling at 6.5 mph!
Adjustable Loading Dock Safety Nets
No two workplaces are the same; that's why we offer both standard and custom loading dock nets. With exceptional quality and customer service, US Netting is your premier choice for high-grade, affordable loading dock netting and gates.
Enhance Your Loading Dock Safety With US Netting Today!