Bird netting is a humane way to prevent pigeons, sparrows, bats and other flying pests from accessing areas where they could cause damage or create health hazards. An environmentally-sound solution, bird netting is often used in buildings, warehouses, hangars, barns, churches and other similar facilities.
Additionally, bird netting can be used as a canopy for crop protection. It will help keep pests from robbing or destroying your harvest. Using a bird barrier over a pond or body of water can prevent waterfowl from feeding on fish as well.
Material: Polypropylene
Structure: Quadrangular
MD Pitch: 0.79"
MD Tensile Strength: 68.5 lbs/ft
MD Elongation: 15%
TD Pitch: 0.79"
TD Tensile Strength: 54.8 lbs/ft
TD Elongation: 20%
What is bird netting?
Bird netting is a humanely designed product that prevents flying pests like pigeons, sparrows, bats, and others from accessing areas where they could cause damage or create health hazards. It's an environmentally-friendly solution suitable for a variety of spaces.
Where can bird netting be used?
Bird netting is versatile and can be used in buildings, warehouses, hangars, barns, churches, and similar facilities. It can also be used as a canopy for crop protection or over ponds to prevent waterfowl from feeding on fish.
What material is the bird netting made from?
Our bird netting is made from high-quality polypropylene. It's designed to withstand external weather conditions while maintaining its durability.
What is the structure of the bird netting?
The bird netting is quadrangular in structure, which makes it robust and secure. This structure is also beneficial in providing thorough coverage of the area it's applied to.
What are the MD Pitch, TD Pitch, MD Tensile Strength, and TD Tensile Strength?
The MD (Machine Direction) Pitch and TD (Transverse Direction) Pitch refer to the size of the spaces in the netting, both are 0.79". The MD Tensile Strength (68.5 lbs/ft) and TD Tensile Strength (54.8 lbs/ft) refer to the strength of the netting in different directions.
What is MD Elongation and TD Elongation?
MD Elongation and TD Elongation refer to the degree to which the netting can be stretched in its respective direction without being damaged. The MD Elongation is 15%, while the TD Elongation is 20%.
Is the bird netting easy to install?
Yes, the bird netting is designed to be user-friendly and can be installed with minimal tools. However, for large-scale or complex installations, you may want to consider professional assistance.
Does the bird netting harm the birds or other animals?
No, the bird netting is designed to provide a humane solution to prevent birds and other pests from accessing certain areas. It does not harm the animals; instead, it acts as a physical barrier.
How do I maintain and clean the bird netting?
The bird netting requires minimal maintenance. It can be cleaned with water and mild soap if needed. Avoid using harsh chemicals as they may damage the material.
See Related Products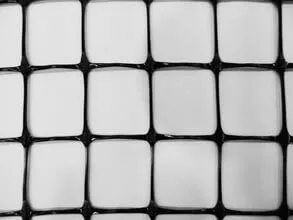 Plastic Netting Catalog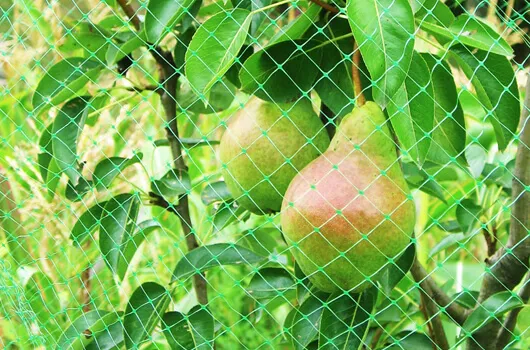 Large Rolls of Blueberry Netting
Crop Protection Netting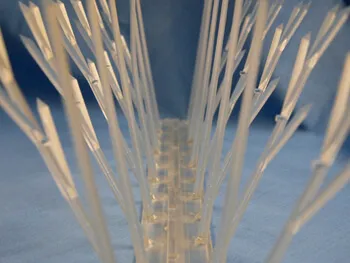 Bird Spikes, Expellers, and more...
Bird Control
Humane Bird Netting You Can Rely On
Spanning three decades, US Netting is a world-recognized leader in specialty netting for military, commercial, environmental and transportation needs. Count on our humane bird netting to get the job done the first time every time. There are many reasons to put up a bird net, and this article will spotlight several. Whether you raise chickens and pheasants or need to keep pigeons off the ledge of a downtown building, we have the bird netting you need.
Our bird control netting is environmentally friendly and offers a humane alternative to other preventative measures. Our plastic netting comes in large rolls and is weather-resistant, protected against ultraviolet light and long-lasting. Our bird mesh will keep small birds, pigeons, bats and other flying pests from presenting a health hazard or causing damage where they don't belong. Bird netting can be found in hangars, warehouses, barns, churches and many other places where it prohibits yet protects birds harmlessly.
Bird Netting Protection for Your Poultry
If you have a chicken run in your backyard or keep game birds in an enclosure behind the barn, you'll want bird netting that's heavy-duty and safe. Your chicken coop and other poultry need protection from predators and a safe, sound environment. Our poultry netting replaces traditional chain-link fencing with a sturdy and easy-to-install heavy-duty net. With smooth flat edges, no sharp metal and a hexagonal pattern that keeps talons from tangling, you'll relax knowing your birds are protected by the best rust-free weather-resistant netting on the market.
But bird netting for sale from a leading manufacturer should be able to multi-task, and ours is up to the challenge. You know it can keep the birds safe inside, but what about the predators, such as weasels, foxes and other carnivores? Can they get to your poultry? No, they're prevented from getting through our poultry netting when you install it as recommended: buried sixteen to twenty inches in the ground. This keeps the digging, burrowing animals from reaching your birds. You can also cover your pen with shade cloth netting in different densities to keep them cool in the hot sun.
Bird Netting to Protect Your Garden, Orchard or Crop
Whether you have a small garden, vineyard, orchard or a significant crop, bird netting from US Netting has precisely what you need. Fruits, vegetables, grapes, fruit trees and other plants need protection from birds and other fruit-eating pests. Cover bushes, flowers and other plants with a light protective net that won't cause damage. This cost-effective, weather-resistant humane netting is easy to cut and long-lasting.
Crop protection takes a lot of time and effort, especially when battling birds and other flying pests. Our crop protection bird netting can be used for trees and fruit bushes, gardens, to cover frames or enclosures and to protect harvest fields. For larger crops, you'll want maximum protection — our strongest heavy-duty netting. Hung from greenhouse structures, frames or with suspension cables, it can cover large areas. This is a perfect choice for orchards and vineyards.
What to Do About Pigeons: Netting Ideas & More
Cities with many large buildings, churches, balconies — they all have the same problem: pigeons and other birds roosting or nesting. We offer pigeon netting and multiple types of humane spikes for ledges, roofs, trusses, sills and beams. Pigeons can be a troublemaking pest, especially in large numbers. Bird netting and other deterrents offer some respite.
Holographic foil can be an extra deterrent in addition to netting. Flashing in the sun and noisy when windy, it can scare birds off in several ways. Bird tape, as it's called, is frequently used in grape vineyards in harvest time. The interlocking circles on the tape mimic an owl, a natural predator to many birds.
Insect Netting & Pest Control
Besides our bird nets for sale, we offer specialized mosquito netting up to 162 inches wide. Our mosquito nets are custom designed to your specifications with tight-weave mesh and webbing-reinforced borders. Mosquitos and other small No-See-Ums won't get through to you.
You can order smaller mosquito netting for yourself or as a patch for tents. Our larger nets are great for gazebos or to cover entire picnic areas. If you request our no-finished-edges mosquito netting, you'll get fire-retardance. And our nets, unlike store-bought varieties, won't fray or unravel when cut. Check out all of our pre-made mosquito net coverings and curtains. Offered in several sizes and available in white or olive drab, they're great for camping or as a table covering to make your picnic virtually bug-free.
Bird Netting Protects Your Investment
In the end, installing bird netting is a small price to pay compared to lost time, products and money from the damage they can do. And when you buy bird control netting from US Netting, you're buying from a company that makes nets for customers like the Marines, Navy, Army, Air Force, Coast guard, NASA, Wal-Mart Distribution and the Smithsonian National Zoological Park. They know how to make netting the right way every time! See what we're about, and trust US Netting to take care of all your bird netting needs.