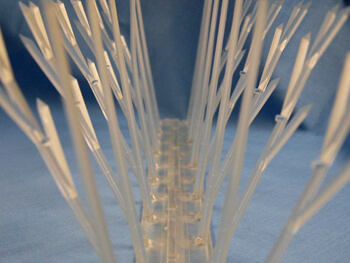 Inexpensive lightweight replacement for steel spikes. While not nearly as durable as stainless they still work great. Use on rooftops edges or other areas that birds will roost.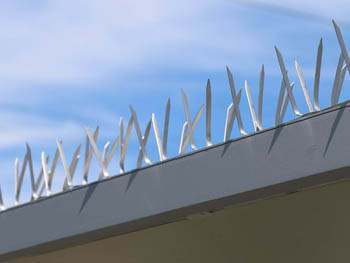 Stainless steel Birdguard bird spikes for the ultimate roost inhibitor for birds. The USA made Stainless steel bird control product comes with a lifetime warranty. Prevent birds from landing or roosting with Birdguard stainless steel bird spikes. Stainless steel bird spikes are a humane bird control method. Eliminate bird waste cleanups. Mount in any direction or on any surface.
---

More Bird Control Options
Sometimes bird netting isn't the right bird control solution for your facility or home. Open roosting areas such as window sills, archways, signs, and ledges require unique approaches.
Our sister site Birdguard.com carries an assortment of bird control products including our own stainless steel BirdGuard bird spikes. You can also find plastic bird spikes, taste and roost aversion gels, and bird repellent flash tape. We even carry sonic and ultra sonic bird repelling devices for pigeons, geese, gulls, and even woodpeckers.
View our selection of bird spikes, ultrasonic bird repellers, & other bird control products over at: Visit BirdGuard.com