2015 Safety Netting Updates and News
Looking back at 2015 we can't thank all of our customers enough! You've helped us make it one of the most innovative and successful years for our company. We wanted to share some of what we accomplished together this past year and a look at where we are headed for this year.
This year has been a record-breaking year for our web team and we've been working hard to make US Netting the best online source for netting products. In order to do this we focus on you, the customer, when we redesign components of the site. This approach has allowed us to offer a unique and quality experience when you buy netting online.
A great example of this in action is our newly redesigned loading dock safety net section. Every piece of the category has been rebuilt with ease of use in mind. Focusing on the user experience we have aimed to make it easier to find the right dock barrier system for your facility. We've also taken the time to create in-depth video instructions for installation. This means it will be easier to secure your loading docks against falls and forklift accidents in 2016 than ever before.
Safety Netting for Drone Races
Last year we worked with 23 out of the top 25 defense contractors in the nation. We also worked with some of the biggest names in drone innovation including Harvard University, The Drone Racing League, and Hiller Aviation Museum. Harvard needed an innovative drone flight cage to keep their spectators inside of while demonstrating the capabilities of their UAV's. DRL used our nets to create parts of the course for their race in Sun Life Stadium. Hiller Aviation Museum used our nets to create their Drone Plex to allow students to learn how to fly drones in a safe environment.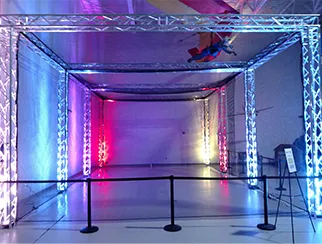 In 2016 we will continue to work with leading names in the booming tech sector of drones. Expect to see more drone safety netting products and videos as the year continues. We also plan to expand our online offerings to highlight our work with drones outside of the domestic arena, namely Military UAV capture and recovery systems.
So, we'd like to thank you for being a customer. We couldn't be more excited to work with you in the coming year to help innovate, secure, and protect your world with netting.
Signup for our newsletter for access to new products, promotions, & services