Loading Dock Safety Nets™ are US Netting's Answer to Loading Dock Hazards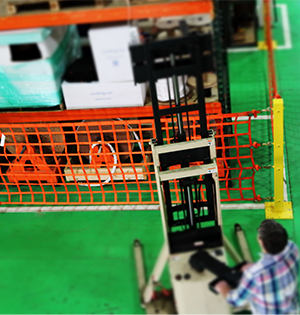 At US Netting we noticed two shocking trends in the safety industry regarding loading docks:
Most warehouses settle for inefficacious solutions that don't provide the best function for the problem they claim to solve, such as safety chain.
More effective loading dock barriers are such a pain to purchase, install, operate, and maintain that most companies can't or won't deploy them in their facilities.
It is by understanding these two trends that we came to realize that we could offer a loading dock safety barrier that was superior to all others with our current experience and expertise in the safety netting industry. With these things in mind we resolved to design a safety solution that met or exceeded the needs of the industrial arena, yet was accessible to the every day work force.
Low barrier to entry for high quality loading dock safety barriers
We saw other companies offering comprehensive systems for loading dock safety and noticed that they had little to no information on how to purchase their product further than "call to schedule a consultation". Many of these companies could not even provide an estimate without a blueprint or sometimes on site inspection. After that certified technicians were needed to install their products.
By making it difficult to acquire this level of protection these companies unwittingly drive the workforce to simpler, less effective means of dock safety. Take safety chain for example: easily bought at almost any hardware store, quick to install for most production facilities, yet far less effective for preventing falls. We ensured our product would be as easy to install as it was to purchase by providing transparency on pricing practices and designing a system that could be installed by one person with tools commonly found in the industrial setting.
Becoming the strongest link in the chain
Safety chain may satisfy OSHA regulations but still leaves much to be desired in the prevention of loading dock falls and forklift accidents. These chains allow people and product to pass under or over and offer only a single linear length of defense. We designed a safety mechanism that covered the entire distance below the OSHA required height of 42 inches, protecting from falls and product loss from the floor up. Another pain point we attacked was the costly maintenance of modern loading dock barriers, with most requiring certified maintenance workers or expensive replacement after impacts.
By leveraging the elasticity of polyester webbing and the superior strength of our stitching thread we were able to provide a forklift barrier that doesn't sustain structural damage unlike metal barriers that bend or break on even the smallest impact. Not only is the cost of ownership dramatically reduced, but also the chances of system failure.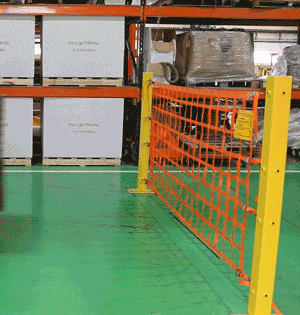 At US Netting we desire to share this passion for safety with those who need it most: the workforces of our nation. By creating a superior loading dock safety device that is painless to purchase, quick to install, and more comprehensive in protection capabilities we aim to make America's workplaces safer, one loading dock at a time.