Cargo and Webbing Solutions That Grow With Our Customers
Custom cargo solutions and webbing based products are our personal expertise at US Netting. We have many years experience custom crafting prototypes of web-based products in all kinds of materials. We've invested time and money in creating an effective and efficient cargo and barrier net construction processes as well as acquired the equipment to service, repair and construct all types of products from mil-spec to run of the mill.
Netting Rope and Webbing Materials
Throughout the years our customers have leaned on us for information regarding flame retardant materials, tensile strength tests, and custom netting solutions for their equipment, warehouses, and products. One of the reasons US Netting can remain successful is our ability to gather requirements and iterate on projects of all shapes and sizes. Our custom product cycle includes defining the use case as well as figuring out the capacities and capabilities of the end product. Our ability to adapt to our customer's needs is our greatest asset. Our experience with clients like NASA, Lockheed Martin, Boeing, and Intel throughout the years has granted us the knowledge and possibility to continue growing to help more businesses large and small.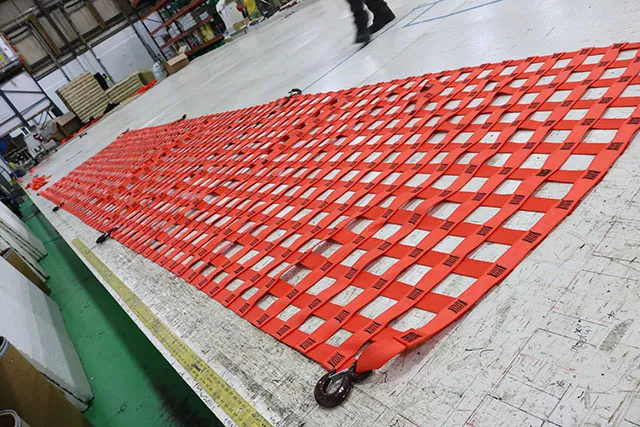 Our array of sewing equipment allows us to work with materials like Kevlar, Polyester, Nylon, and Polypropylene. If needed, we have the capability to sew through large pieces as well as use and create custom stitches upon customer request. We also perform surging, add grommets, and splice rope.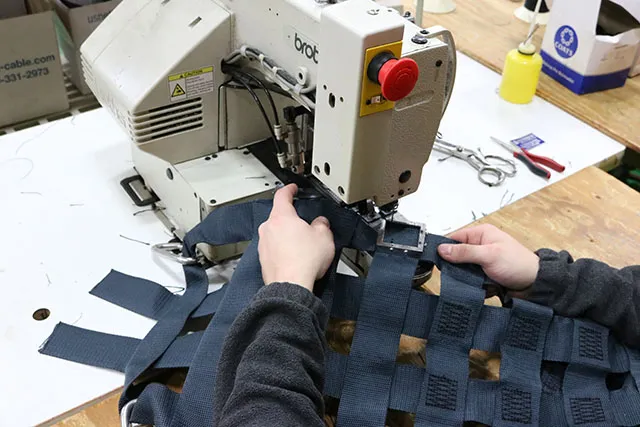 Custom Cargo Netting Systems
In 2010 we acquired the equipment to sew specialized cargo netting systems and began working with biodegradable webbing. In this situation, we were able to provide a custom lifting net to meet our client's demands. As for lifting capabilities, we have designed and built cargo lifting nets with a 50,000 lb. capacity. View the video below to see examples of our cargo lifting net capabilities.
Custom Cargo Lifting Net Capabilities
In early 2016, we recognized our clients need to have custom hardware, attachments, and adjustment capabilities. At that point, we began to build out our internal machining, steel & fabrication shop that works in conjunction with our textile professionals and account managers. Bringing the manufacturing of hardware and accessories in-house allowed us to iterate on custom hardware products that provided unmatched quality with the made in the USA pride.
Some of the projects we've made for our clients include loading dock barriers, cargo attachments, heavy-duty cargo restraints, blast containment apparatuses and more. We don't shy away from building out custom solutions for any application.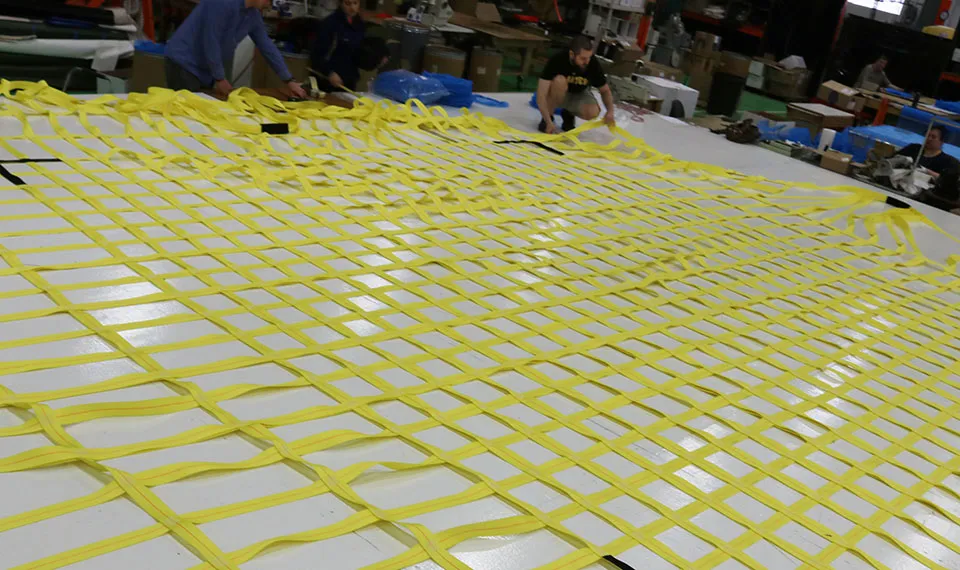 New Markets on the Horizon
Coming into 2017 we've recognized the need to continue advancing our expertise to provide the utmost quality to more industries. For years, US Netting has worked with some aviation companies to provide safety solutions. Now, we are moving forward to achieve our FAA certification to repair the cargo systems found on commercial airlines. We feel that this is a big step up and another form of growth for us to take on. With this expansion, we have acquired an aviation repair station QA specialist who brings his 20 years experience. Our new team is beginning to take shape. We are projected to fully operational by the end of 2017 and will hopefully have our FAA Certified Repair Station License and our CASE certification.
We feel that expansion into the repair sector is a natural evolution of the work we do on cargo and barrier solutions. Our new team is already integrated into our existing production team and assisting on all barrier and cargo webbing jobs as we speak. The integration of new experienced team members is going great, and we are developing all new operating procedures that are speeding up our production and shipping times. US Netting looks forward to servicing the airline industry and all of their aircraft with our newly certified repair station.
We will continue to offer our in-stock cargo netting products like the truck and trailer cargo nets, cargo netting rolls and more on our website. Our cargo netting offerings won't get any smaller as we move into the new sector. We feel it will only enhance both sides of our business and mainly the customers process.
With all the new team members and new markets, we are jumping into US Netting still keeps its customer's number 1 in the entire process. We hope that you will come back again and again and trust your workforce with our quality made safety and industrial products that are made right here on our home soil. As always if you have any questions or would like to speak with us regarding our certification process, get in touch to have us repair your nets upon certification or any other questions, please feel free to email us and let us know. You can also call us at 1-800-331-2973 from 8 am - 7 pm EST.
Signup for our newsletter for access to new products, promotions, & services