Knotted Twine Netting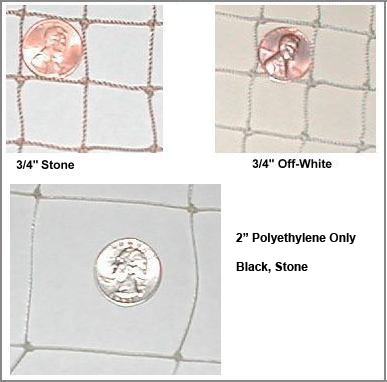 Nylon Knotted Twine Netting
Material Details
Nylon Knotted Twine Netting
Color: Black
Material:Twisted Knotted Nylon Twine
Versatility:Nylon twine that has been urethane bond treated to prevent ultraviolet collapse. If installed per specification, a ten year life expectancy should be realized.
Visibility:Nylon nets are manufactured using #7 nylon twine (1mm) diameter. In a correct installation, with appropriate color selection, the net will blend into almost any background.
Technical & Chemical Properties
Resistance: Nylon fibers are non-organic and are not digested by insects. Nylon is also resistant to mildew, bacteria and similar organisms. Urethane bonding enhances these characteristics.
Chemical Properties: Nylon polymide fiber that is chemically stable. No unusual handling precautions required.
Electrical Properties: Twine is an excellent insulator of electrical currents. Urethane bonding enhances insulating characteristic.