Protecting Our Roads with Road Debris Netting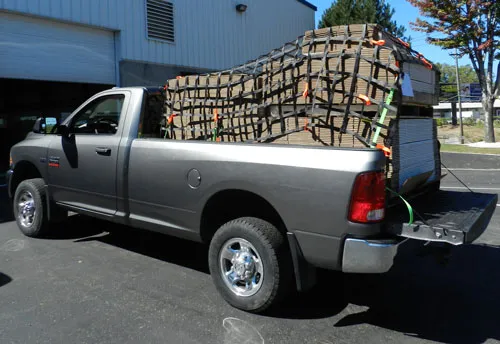 Refreshing, warmer temperatures are spreading across much of the nation as spring rolls in. Unfortunately, with it comes increased roadway hazards as construction projects commence, "spring cleaning" is in full force and April showers flood already saturated winter soils bringing mudslides and rogue boulders into our path
According to AAA, in a study conducted between 2011-2014, there were close to 200,000 accidents caused by road debris *. There were 39,000 injuries and 500 deaths as a result of these accidents. Poor car maintenance and improperly secured loads are the most common causes of debris on the road, and 37% of the 500 deaths were due to drivers swerving to avoid hitting the debris. And, as technology continues to grow and undoubtedly play a dominant role in our lives, drivers are increasingly distracted and even less likely to notice debris in the road until they have split seconds to react.
So, what exactly classifies as debris? Furniture, mufflers, tires, trash, rocks, mattresses, ladders, Christmas trees and almost anything else found on the roadway can be considered debris. How it got there and whose responsible for the damages it causes is often impossible to tell, but the danger is always evident and always serious, especially on high-speed roadways like the interstate.
Transportation Solutions
US Netting offers many solutions for trucks and other vehicles to secure their loads, whatever it may be.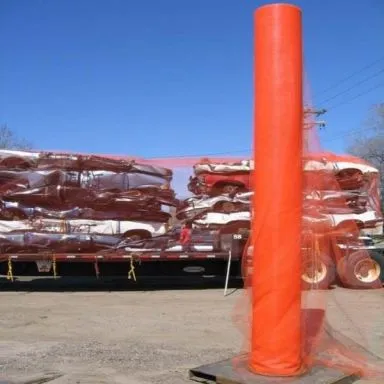 Crushed Car Containment Netting
Our crushed car containment netting improves highway safety, complies with new regulations for the transport of crushed cars, is both disposable and economical, it's easy to apply, is highly visible, has minimal wind resistance, and comes in a wide variety of roll sizes.
Freight Cargo Nets with E-Track Fittings
You can secure transportation loads quickly with our freight cargo nets. They are designed for use in truck trailers and box vans equipped with e-track rails.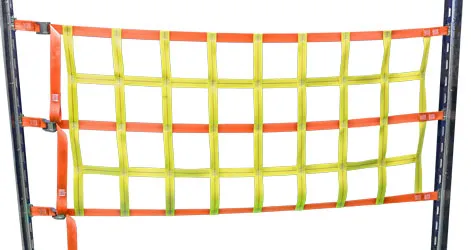 These nets are constructed from a very strong and durable 2-inch polyester webbing, have 8 inches of adjustability, feature 800 lb. load limit spring-loaded e-track fittings, have an orange top strap and attachment strap for easy identification, come in two sizes, a half height of 42 inches or full height of 82 inches, and have two different hardware options for tightening, cam buckles or ratchet buckles.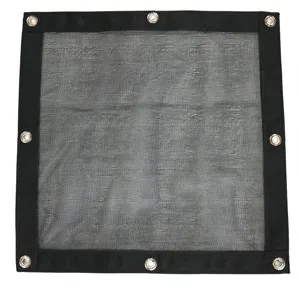 Debris Containment Netting Panels for Trucks
Our debris netting panels are made with a high-density polyethylene mesh used to cover, secure, and prevent debris from dislodging. It can also prevent already loose debris from damaging other vehicles on the roadway. They are available in both stock and custom sizes, and each comes with a webbing border and grommets approximately every 18-inches.
Truck Bed Cargo Net With Sewn-in Loops
The cargo net with sewn-in attachment loops comes in three sizes, small which is 60 inches by 84 inches, large at 84 inches by 120 inches and extra large at 22 feet x 26 feet. The small and large both feature 11-inch openings and the extra large has 24-inch openings. Each has a working load limit of 1,200 lbs. and is made from 1-inch wide polyester webbing.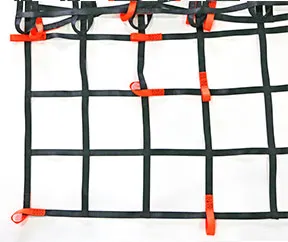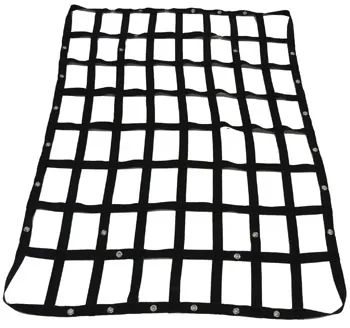 Truck Bed Cargo Net With Grommets
Used to secure general loads in pick up trucks, the truck bed cargo net with grommet attachment points come in two sizes, small which is 52 inches by 92 inches and large which is 122 inches by 92 inches. These nets are made with 2-inch wide polyester webbing and 8-inch openings.
The Ultimate Truck Cargo Net Tie Down Kit
This kit comes with everything you need to secure loads for transportation.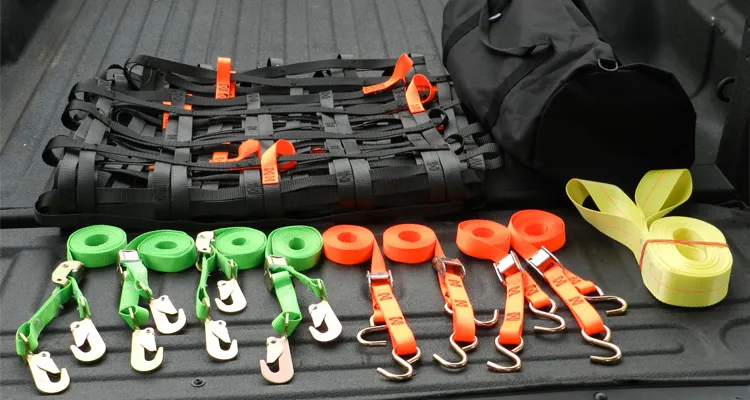 You receive one cargo net with orange sewn-in loop attachment points made with 1-inch wide polyester webbing and 11-inch openings, four 1-inch by 8-foot polyester fastening straps with premium snap hooks for non-slip fastening and 400 lb. working load limit, four 1-inch by 8-foot orange polyester tie-down straps with a 400 lb. working load limit, one 25-foot by 2-inch high-tensile tow strap, and one all-weather bag for easy storage. There are three net sizes to choose from, 52 inches by 92 inches, 122 inches by 92 inches, and 22 feet x 26 feet.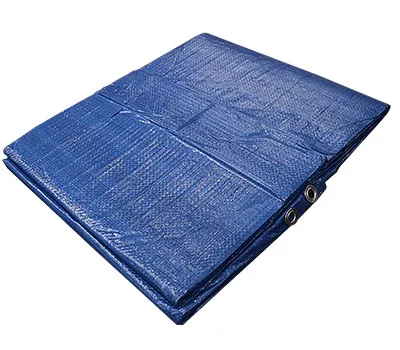 General Purpose Tarps for Any Application
Consisting of polyethylene in an 8 x 8 weave, these tarps are water and mildew proof and feature heat-sealed seams and grommet holes approximately every three feet. They are perfect for covering furniture or whatever else you may find yourself hauling.
Surrounding The Roadway
A lot of debris enters the roadway from vehicles, but it can also come from the surrounding area. We offer solutions for that as well.
Debris Netting
Road construction can create many debris hazards especially when construction is happening above us on bridges, tunnels, or overpasses. Installing debris netting at these sites will prevent dislodged materials such as concrete from falling and entering the roadway. Our debris netting is a high density, UV treated polyethylene.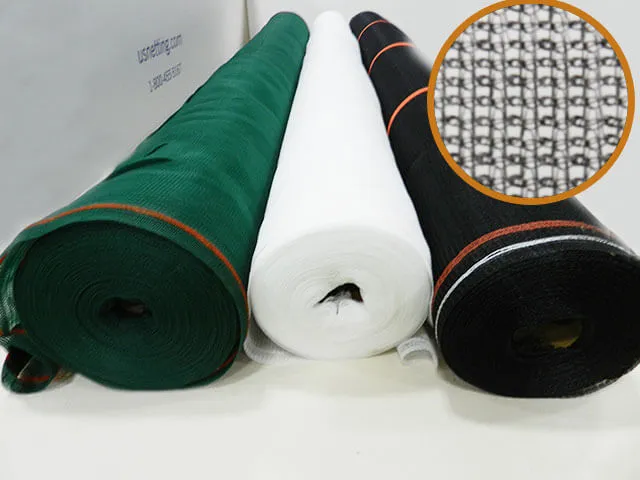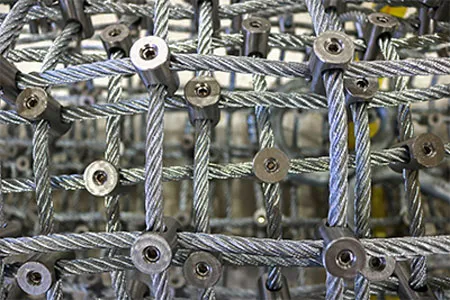 Steel Netting
Steel netting is a multifaceted product, but one of its common purposes is preventing rock- slides and mudslides along the roadway. It is often installed to hold back eroding hillsides or cliffs. We can custom fabricate galvanized and stainless steel nets, both of which offer superior protection.
Although there are exceptions, it is generally easy to prevent debris from entering the roadway when proper precautions are taken. Drivers should secure every haul and check that there is no wobbling, bouncing, or shaking before transporting. Tires should be checked often, especially on commercial vehicles, to ensure that there is no loose tread or any indication that a tire might blow or disconnect from the vehicle. Contractors, individuals working on construction projects, those who work in transportation, and even drivers should do their due diligence and report any potential debris hazards to the proper authorities.
Sources on Debris Netting:
https://www.ctpost.com/local/article/AAA-study-Road-debris-causing-deaths-accidents-9136165.php
Signup for our newsletter for access to new products, promotions, & services