If you have news that you would like share, submit articles, pictures, and ideas to

[email protected]

.
5 Steps for Loss Prevention on the Loading Dock.
Loss prevention is a serious issue nearly every manager has to tend to on a daily basis. Discrepancies can have an impact on the product, capital, or both!
1) Prevention - Take steps in prevention with classes education and review the dock conditions to have foresight on the problems.
2) Awareness - Be aware of what goes on on your loading dock, and off of it.
3) Compliance - Be compliant with the standards and rules OSHA provides and ensure you follow state and local regulations as well.
4) Investigation - Investigate loading dock safety products that enhance your working area. Don't forget to examine new rules and revisions to old ones!
5) Resolve - Resolve any of the issues listed above that will need your attention. Resolve them in a timely - reasonable matter.
By following the five steps, you will be able to build a difference within your company giving you the knowledge and safety you need to prevent loss, injury, and more.
---
Nerding Out with General Electric
General Electric has always been a leader in technology, industry, and manufacturing. However, they have brought something new to the traditional idea of innovation, with the growing amounts of manufacturing technology. Along with the emerging effort of bringing technology, manufacturing, and industrial jobs to younger generations.
One way GE has chosen to do so is by bringing in the old cast from the hit Discovery Channel show Myth Busters! Bringing exciting innovation in manufacturing to the eye of the public and appealing to a pop-culture fan with the fans of the Myth Busters crew.
General Electrics video series is an excellent way to bring a younger generation into the science and technology world and even into manufacturing and industry.
---
Nuclear Collapse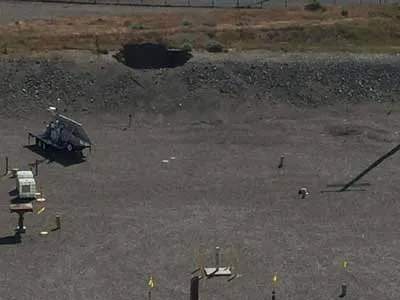 Photo From
CBS News
Last week in the state of Washington a major emergency forced the Hanford nuclear site, Plutonium Uranium Extraction Facility (PUREX), 200 miles outside of Seattle had a major scare. Shortly before 8:30 am, an underground tunnel filled with rail cars and nuclear waste collapsed. The collapse covered about 400 square feet. Thankfully no one was inside of the tunnel when it collapsed, but nearby crew members were evacuated and sent home early. Cleanup for this is estimated to cost more than $107 billion and will take until 2060.
Thankfully no one was hurt in this event, but the cost for clean up alone will destroy the state of Washington and our country as a whole.
---
Get in touch with us!
Questions? Comments? Ready to order your next custom net? Contact us for help via email ([email protected]) or call us at 1-800-331-2973 and we will be happy to assist you.
Don't forget to submit your stories!
If you have news that you would like to be heard, submit any articles, pictures, and ideas to

[email protected]

.
Signup for our newsletter for access to new products, promotions, & services