All About Custom Webbing and Stock Webbing Materials and Products
At US Netting we are your custom webbing experts. We have 25 years of experience fabricating and constructing prototypes with webbing materials. The most common materials currently in use include Nylon, Kevlar™, Polyester, and Polypropylene. US Netting has access to a large range of specialty webbing materials including anti-static, fire retardant, and more.
Proprietary Webbing Products
Aside from being the custom webbing material experts, we have several proprietary products. We fabricate these products in-house in the United States. Some of the products that we keep in stock are the following.
Our tough polyester loading dock safety nets protect loading docks and other areas. Each net includes snap hooks for connection to bollards or our custom wall-mounted bracket systems. Cam buckles allow for quick tightening and easy installation.
High strength polyester truck and trailer cargo nets are sewn for cargo containment on trucks and trailers. Truck nets contain optional debris or Cordura backing for added measures. Debris netting provides a barrier for smaller items while Cordura can provide a water resistance. Net kits are available with tow straps and tie downs.
Rack style EZ barrier netting for containing equipment, stock, or materials on your upright racking. Webbing has various sizes and attachment styles and backed with vinyl for no permeation.
Military cargo nets are fabricated with large loops for cinching the net. All cargo nets are handmade in the USA. Lifting your items is the number 1 priority with this product. The lifting net uses 2-inch polyester webbing and orange high visibility center load bearing straps making it easy to position loads. Our HD model will lift up to 6,000lbs., an excellent choice when heavy lifting is in order. Load balancing bars are available for extra support.
Reduce safety concerns with our hatch netting products. We manufacture our own heavy-duty aluminum rails in-house. PTFE sewing thread provides resistance to UV rays, acid rain, or industrial pollutants. This product is available in many sizes.
At US Netting we have proprietary in-stock items available. The above list includes some off-the-shelf safety items we provide. Our main expertise is fabricating custom solutions for businesses of all sizes. We are second to none on speed, quality, and experience fabricating custom webbing products. Our sales representatives would like to assist you by answering your questions about securing, containing, or whatever it is your application needs.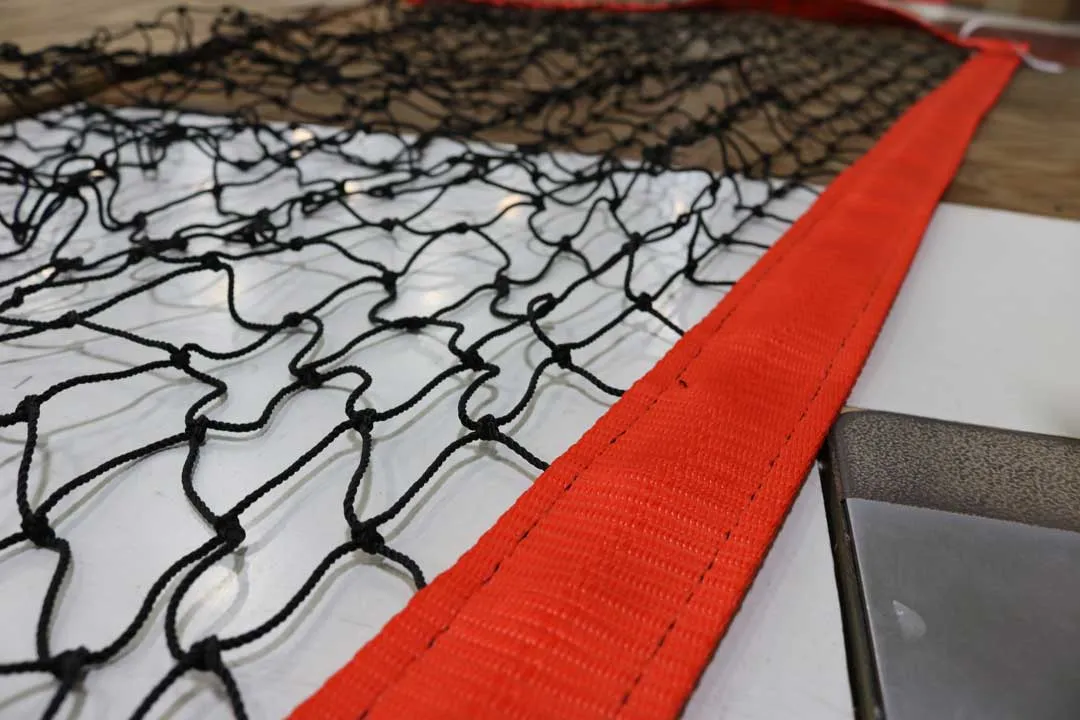 In-house metal fabrication shop works hand in hand with our webbing fabricators. They build out hardware and attachment pieces specific to client needs. Fabricators often work on combining materials. An example (as shown) is a knotted nylon style sports netting with webbing borders. In this particular occasion, the webbing is sewn to create a pocket for stabilizer bars.
Contact us for help via email ([email protected]) or call us at 1-800-331-2973 and we will assist you with your needs.
Signup for our newsletter for access to new products, promotions, & services