The Benefits of Winter Snow Drift Fences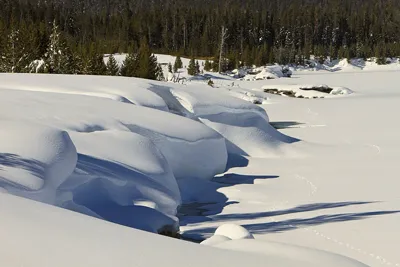 Preparing for Winter With Snow Fencing
Winter is coming …and it will bring mounds of blowing, drifting snow. But there is a way to exercise some control over where and how the white stuff accumulates: through the use of snow fence.
Snow fence is especially useful for people in rural areas with less-frequently-plowed roads, long driveways that can get blocked off fast, or any other areas that need to be kept clear. You can also use fencing to put the snow where you want it: for example, ski lodges can adjust snow depth on their slopes, or farmers can collect the snow in areas where they can use it as water supply when it melts.
And this solution is economical: according to a guide put out by the Strategic Highway Research Program, installing snow fences can cost 100 times less than plowing snowdrifts. Plowing and salting or sanding roads can be damaging to their surface and lead to expensive repairs. The use of snow fence reduces the need for these costly and harmful measures. Furthermore, it saves lives: clearer, more visible roads are safer for motorists. Along I-80 in Wyoming, for example, the introduction of fences in the 1970s led to a 70% reduction in the number of accidents caused by poor visibility.
Snow fence is installed perpendicular to the prevailing wind direction and upwind of the area to be protected, at a distance of at least 35 times the fence height from that area. (So a 4' fence would be placed 140' upwind of a road, for example). As the wind and snow blow through the fence, the resulting reduction in speed lets the snow pile into a drift on the downwind side of the fence before it reaches the road. Snow fence can be made of plastic grid or wooden slats.
Whether you choose plastic or wooden fence, it should have 40-50% open areas or porosity so that wind and snow can pass through. The goal is to slow down the wind and redirect the snow to form drifts, not block it off completely. You should also leave a gap of at least five inches (or 10-15% of the fence height) below the bottom edge of the fence so that the drift begins accumulating farther away and not right up against the fence, burying and blocking it.
The support posts should be no more than 8' apart, and should be buried at least 1.5' into the ground (so use posts taller than the fence height). Use T-posts rather than U-posts for extra stability. Plastic fence can be secured between the post and a wooden slat for added strength. It can be fastened with cable ties and then taken down for storage at winter's end.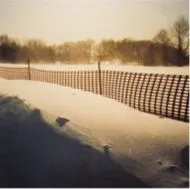 US Netting offers several types of plastic snow fence in various colors, or natural wood slatted fence that works for sand control as well. We also have T-posts and ground staples for installation. Explore our site or contact our sales team at 1-800-331-2973 or [email protected] with any questions about choosing a snow fence solution that makes dealing with winter easier.
Sources on Snow Drift Fencing:
Signup for our newsletter for access to new products, promotions, & services