Comparing Loading Dock Safety Barriers: Nets vs. Gates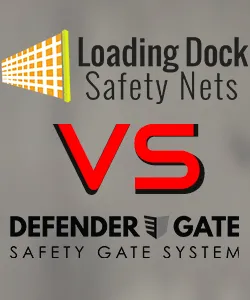 Workplace safety is a primary concern for warehouse and shop managers in all industries, and loading docks are among the busiest and most hazardous areas. Accidents can cost time, money, material or equipment losses, and most significantly, personal injury or loss of life. According to the 2016 Liberty Mutual Workplace Safety Index, which uses data from the U.S. Bureau of Labor Statistics, workers' compensation claims for injuries cost businesses nearly $62 billion in 2013—more than $1 billion per week. Falls were one of the top two causes of the most disabling injuries.
Providing adequate fall protection on loading docks isn't just a good business decision. It's required by Occupational Safety and Health Administration (OSHA) Regulation 1910.23(b), which governs "protection for wall openings and holes," and by American National Standards Institute (ANSI) Guideline A1264.1-2007, "Safety Requirements for Workplace Walking/Working Surfaces and Their Access; Workplace, Floor, Wall and Roof Openings; Stairs and Guardrails Systems."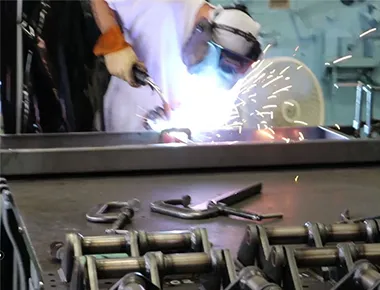 For years, US Netting has been a workplace safety leader with our loading dock safety net systems. Now we offer another option: the Defender Gate™, a steel safety gate. Both types of access barrier can protect your personnel, products, and equipment from costly accidents. How do you decide which barrier system is best for your needs? Here's a look at how their key features compare.
Loading Dock Barrier Installation
Both our net systems and the Defender Gate™ include all hardware necessary for installation. The nets offer some flexibility in mounting options (wall brackets or steel bollards), and either option can be installed by a single person. A team of three people (and/or a forklift) is recommended to install the safety gate, to help align the much heavier pieces. Once in place, however, the gate is virtually maintenance-free. Neither type of access barrier will interfere with dock door operation.
Ease of Use
Loading dock safety nets can be put up and taken down in a matter of minutes, though it does take some time to fasten the hooks and tighten the straps, and to roll the net up when opening. The Defender Gate™ can be opened and closed in a fraction of that time. The patent-pending design uses EasyGlideTM technology to smoothly fold in half and swing out of the way after being unlatched. The safety gate's latch can also be fastened with a padlock for extra security that will take just a few seconds more to unlock. While both barrier systems are simple to use, the Defender Gate™ has the advantage in terms of speed.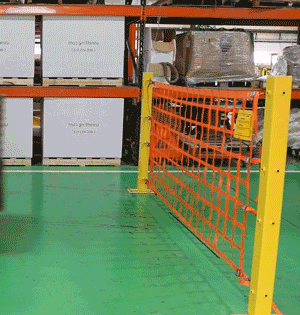 Safety Barrier Durability
Both types of access barrier are made with the highest quality materials and have undergone rigorous in-house testing. The loading dock nets are a grid of heavy-duty polyester webbing. They cover more vertical surface area than the gate, reaching to the floor, so it's less likely things will slide under them. The wall-mounted model also offers the option of a debris liner to help prevent leaves and trash from blowing in the open doorway. The wall-mounted nets offer lighter-duty protection and can stop handcarts or walk-behind pallet trucks. The post-mounted nets are stronger, with the ability to stop a forklift traveling at 4 mph, and the steel bollards can provide extra impact protection for the door frame (as can the safety gate). But the Defender Gate™ is the strongest of all: the rugged steel construction can withstand multiple impacts from a 13,100-lb. forklift traveling 4 mph. It is more expensive than the nets; but the cost of any of these barrier systems is a worthwhile investment to protect your employees and materials against the terrible (and much higher) costs of an accident.
The nets and the gate have other uses besides accident prevention at the loading dock. They can be used to cordon off transformers or other equipment, or to restrict access to certain areas. Both barrier types come in a range of sizes and can be custom-made to fit your requirements.
Still have questions about which loading dock safety solution is right for you? Call us at 1-800-331-2973, or e-mail [email protected].
Sources on Loading Dock Safety Barriers:
Signup for our newsletter for access to new products, promotions, & services