Preventing Accidents and Injuries at Construction Sites
Summer is here and we are at the height of construction season. Thousands of roads, bridges, buildings, and homes are being repaired, constructed, or demolished each day. Safety is quickly becoming a priority for a majority of construction sites but the number one citation OSHA issued in 2014 was for inadequate fall protection. Falls from various levels and heights accounted for 39% of construction worker deaths. Being struck by an object accounts for 8.1% of fatalities, however, falling debris can also affect bystanders such as pedestrians walking below or vehicles passing by.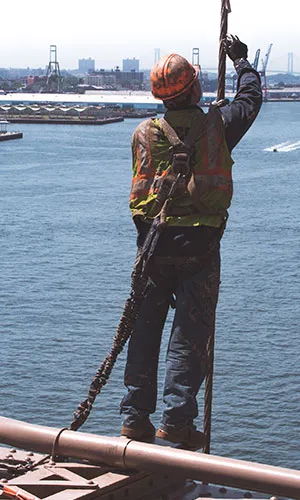 On March 27th, 2016, in Mount Pleasant, Iowa, a 28-year-old construction worker died after falling 20 feet from the top of a bridge into the water below. The young man could not swim and drowned. He was not provided with fall protection and there were no personnel safety nets installed.
This terrible accident was 100% preventable as proven by the historic netting installed and utilized during the construction of the Golden Gate bridge. That net, extending out 10-feet on both sides of the bridge, saved the lives of 19 men throughout the project. It not only increased the likelihood of survival, but it also increased the productivity of the workers as they felt more confident and comfortable moving at a quicker pace.
Construction sites are also dangerous for people passing by. In August 2009, 3-year-old old Michelle Krsek was walking with her family near a construction site when severe winds dislodged a 19-foot sheet of metal causing it to fall 131 feet to the sidewalk. She was killed instantly and the rest of her family was quickly rushed to the hospital.
In March of 2015, another accident involving falling debris made headlines. Tina Nguyen was hit by a falling piece of plywood in New York City while walking down the street. Again, winds were severe and caused a 4ft by 8ft piece of plywood to fly 50 feet and strike the 37-year-old woman. In both cases, the construction companies faced multiple violations and fines. While these accidents are among the most severe, debris netting can help prevent them. Falling tools, rocks, wood, metal, and even concrete can be stopped with the use of debris netting. It will protect not only your employees working at various levels below, but also passing pedestrians and vehicles.
Construction sites are not just specific to buildings. Construction on bridges, overpasses, underpasses, and roads can be dangerous too. In December of 2013, four vehicles were damaged when construction debris fell from an overpass. The crew was cutting metal and some scraps fell over the edge hitting one car and damaging three more. A piece of wood falling from an underpass in Boston, MA, impaled the windshield of a woman driving to a concert missing her head by six inches. In December of 2015, a Toyota Tacoma was destroyed by a massive boulder falling from a notorious rock slide area in Kyburz, California. The driver was lucky and suffered only a broken toe. In all three instances, these accidents could have been prevented with the use of debris or steel netting.
Safety Netting for Construction Sites
Whatever project you may be working on, we can help bring safety to your job site. Our personnel or fall safety netting is designed to meet any rigorous construction demands. It is made of high tenacity synthetic mesh and is tested to meet or exceed ANSI A10.11 (dated 2010) standards. The shock-absorbing, diamond mesh is treated with inhibitors protecting it from normal wear and tear as well as UV degradation. All of our personnel netting is bordered with 5,000-pound minimum synthetic rope with attachment hooks.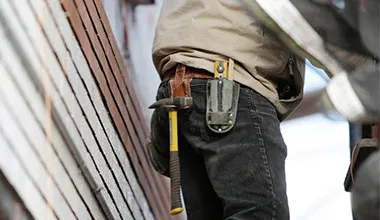 Wrap your building in a cocoon of safety with our debris netting which can be purchased in panels or netting rolls. This netting is heavy duty, fire-retardant, ultra durable, and is reusable moving from floor to floor as the project progresses. The materials used comply with OSHA regulations and is tested for flame resistance. You can also double up your safety with our personnel and debris netting combo. This powerful combination provides strong protection for anyone and anything around the job site.
Our steel netting can help protect you, your employees, pedestrians, and motorists from falling rocks and other debris. We custom fabricate all of our steel nets on-site and they are subject to strict quality inspections before they are cleared to ship. These nets can be made to your specifications including varying mesh sizes, smaller gauge or high diameter cables, and custom shapes. Most heavy-duty safety issues will be solved with the use of our steel netting or wire rope nets.
Safety is and should always be a high priority. Netting is the perfect solution to protect yourself, your employees, bystanders, and surrounding property from falling debris and is a proven, life-saving application. We will work with you to ensure that your site is 100% safe.
Sources:
Signup for our newsletter for access to new products, promotions, & services