The Benefits of Safety Netting for DNV 2.7 1 & DNV 2.7 3 Shippng Containers
Any enterprise involved in shipping chemical containers with open tops—whether by land, sea or air— knows the dangers that are associated with any part of rigging or lifting equipment coming off and landing on one of the tanks.
DNV 2.7 1 and DNV 2.7 3 Shipping Container Safety
At US Netting we provide custom solutions for any type of shipping or cargo hold container. The typical issues we see surrounding the DNV 2.7-1 & DNV 2.7-3 shipping containers is as follows:
Tank damage: This costs stakeholders money to replace as well as downtime that can be associated with removing the contents, placing contents in new tanks and having all employees checked out by medical associates in case of exposure
Tank leaks: Worse than general damage, tanks can develop leaks that might ultimately lead to explosions.
U.S. Netting has ample experience at producing custom netting for chemical shipping containers and specifically DNV netting that are compliant with OSHA, meeting all guidelines of Federal Compliance Regulations. Plus our company also comply to the standards set by International Shipping Laws and regulations for the destination port of entry.
If you are interested in having netting built for your containers Get A Quote
In many international ports, the courts have ruled that the responsibility for safe loading and unloading of chemical shipping containers with open tops rests with the receiving party while in the case of handful number of other ports, this responsibility remains with the party shipping the product.
Either way, knowing that you have an experienced netting company to produce your custom netting— one that can document the strength of the top protection to satisfy compliance requirements, is a matter of good business practices.
Obviously, preventing damage due to open top containers is much safer and considerably cheaper than having to pay millions of dollars in restitution, fines and investigations.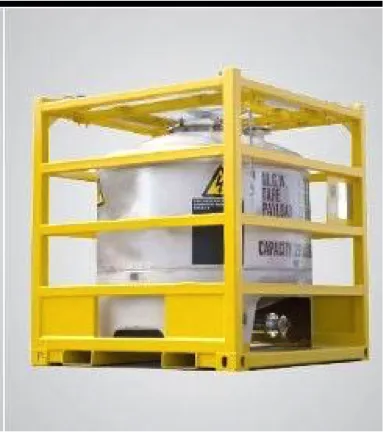 All DNV 2.7-1, DNV 2.7-3 and similar chemical shipping containers with open tops fall under the U.S. regulations addressed in the DNV Standards of Certification. In short, these containers must have top protection that is custom-fitted to the open frame shipping container; it is designed in such a manner so as to allow for crane hooks to be attached to the eye pads without potential endangerment of touching the chemical container. Additionally, cargo netting must be strength tested and certified and the openings must meet specifications. In other words, not just any netting will do.
It's easy to forget just how dangerous shipping chemical tanks can be especially when there are so few accidents in the U.S. And, that is precisely the problem. Everyone gets lax when month after month and year after year nothing dangerous happens. There are some companies that start to feel as if the regulations are invented by some agency nerd just to make life hard on them.
The risk is real and when regulations are ignored, the danger of damages and explosions is actually more prevalent than you might think. A prime example of exploding chemical containers is the accident that occurred in Tianjin Port in China back in August 2015.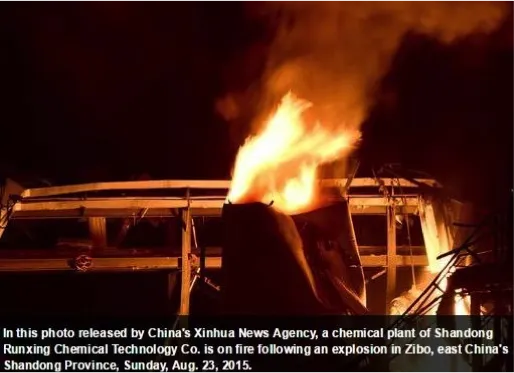 While the number of containers made for an horrendous environmental situation for a wide area of the city, the basic issues that can occur with leaks and explosions of any chemical product are the same – hopefully, on a smaller scale.
Who would want to expose their employees, stevedores, firefighters or innocent bystanders to something like this? The consequences of such an accident on a large scale can put even the largest corporation out of business.
However, consider this: One of your open frame containers is not adequately protected and a crane hook snags the chemical container with sufficient force to cause a tiny spark that ignites the chemicals.
That container is near other chemical containers being loaded or unloaded at the dock. The force of the explosion is enough to cause a domino effect and very quickly, you have a situation very similar to the one at Tianjin.
Let's suppose that the container does not explode but instead leaks the chemicals into the air through a pinpoint hole from the snag.
How many people will be exposed? How long will it take to become noticeable that there are major medical issues? How much will that cost your company in compensation payments? Could the chemical explode when exposed to oxygen or water?
For the best custom netting for open top chemical shipping containers at the best price – including both small or extra-large quantity order, contact us to get a quote.
Image courtesy of APCTR.com.
Signup for our newsletter for access to new products, promotions, & services