New Rope Products and Customer Service Updates
Good news, everyone: we've added our huge selection of rope products from our sister site US Rope & Cable into US Netting! This allows us to offer all of our clients the best online experience for netting and rope products in one place. Read on to see what this means for you and our company moving forward.
US Netting customers can continue to expect the same level of quality service and products that we have offered since 1983. Nothing will change for you other than you will be able to access our large inventory of rope products here on US Netting's website. Since the two product types have a large overlap in uses and materials we feel this will be a natural fit to offer rope alongside our netting products.
Need decorative rope for ship rigging or even just a good rope for your next camping trip? We have it. Speaking of camping check out our friends at Backpacking Mastery for the best camping knife.
US Rope & Cable Customers can now enjoy the new user experience features that we have (and continue to) developed as we have focused on our flagship site. By merging the two we can improve both at the same time, doing the most good for the most people. The only thing that will change for you will be the logo on your online receipts and the look and feel of the site, which we hope will feel like an upgrade.
Overall we are excited for this new move as it provides opportunities for us to update our resources on rope related projects and offer new products to all of our clients.
Live Support Chat
Additionally we have added a live support chat to all of our pages. Check in the bottom right corner of the page for a red button. Click on that and you can start a conversation with myself and our other support staff to get answers to any of your rope or netting questions. We are available from 8:30am to 4:15pm Eastern Time, but if you enter your email address we can alert you whenever we respond to your inquiry. Your chats will be saved for you to return to any time to continue or check the details of. These chats will follow you across the site as well.
This live support chat is just another way that our team at US Netting are the proving to be the best netting experts anywhere. We are ready to answer your questions and can't wait to help you find the right rope or netting solutions that you need. We are sure that these changes will only serve to enhance your customer experience. Drop by in our live chat and let us know what you think!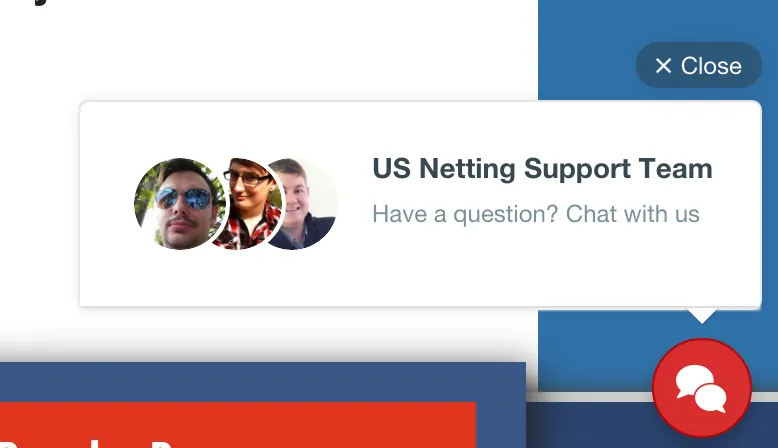 Signup for our newsletter for access to new products, promotions, & services