The term netting covers a vast range of items; from plastic netting fences that many use in their gardens, to heavy duty lifting nets used by contractors. Considering this, it can be quite difficult to a customer outside of the industry to select what type of net they need for their particular application, not to mention to understand the differences between the many choices available. This article aims to help our customers understand what choices are available to them and what each type of net can offer towards its common usage scenarios.

So what exactly is a net?
Before diving into many of the different types of netting available it can be helpful to understand what constitutes a net. Merriam-Webster.com defines a net as "an open-meshed fabric twisted, knotted, or woven together at regular intervals" and netting as "material consisting of pieces of string, rope, wire, etc., that are woven together with open spaces left in between... material that is used to make nets" . These are perhaps the simplest definition of a net and lend themselves to easy identification of a nets components, which often can be so varied that it becomes difficult to discern what makes each specimen a net.
Popular Netting Materials
Arguably the most important component of a net is the type of material that it is made from. The material defines or contributes some of the most important qualities of a net. This often includes tensile strength, working load limit, resistance to various environmental factors such as UV rays, heat and fire, water, mold or rot, and abrasive contacts.
Width and Diameter
When ordering a net one of the most basic choices to be made after selecting a material type is what width of webbing, what diameter of rope, or what twine size of knitted mesh netting to use. As a rule of thumb webbing at 2 inch wide is stronger than webbing of the same material at 1 inch wide. The same can be said about rope at larger diameters and knitted mesh netting at larger twine sizes.
Mesh and Opening Sizes
Be sure to consider your mesh and opening sizes when designing a net. These specifications are affected by use cases in that they decide what can get through the net and what cannot, as well as factoring into overall net strength. Smaller mesh sizes will let less things pass through the net, but will drive cost slightly higher due to more material being used per square unit of the net. Larger mesh sizes will let larger items pass through, but will be more cost effective due to less material being used per square unit of the net. With square mesh netting, measurement is taken from knot to knot to calculate mesh size. Nets made with webbing measure opening size from the center of the width of one side of a webbing square to the center of the opposite side webbing strap of that same square.

Overlap and Stitching
Overlap of netting materials and stitching contribute to overall net strength and cost. Typically more material makes a stronger net, but also costs more. Excessive overlap is not often an issue for the machines in our facility, as we encourage efficient design when working with customers to develop custom netting solutions, but sometimes a job requires many layers of material to be overlapped. This is not a problem because our sewing machines can sew up to an inch and a half of material.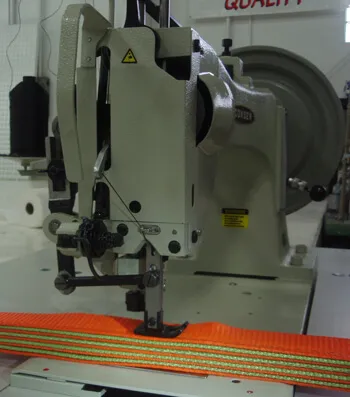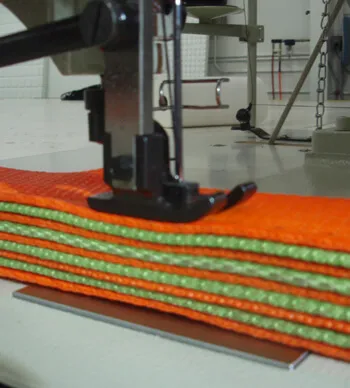 We also offer a variety of stitch type, from basic box stitches to military specification stitches, in a variety of thread types and colors.

Borders
When designing a net borders are an important feature for strength and functionality. Borders add strength, durability, and utility to custom net designs and can be made from various materials including but not limited to rope, webbing, vinyl, wire rope or cable, elastic shock cord, or even chain. Borders allow for various types of attachment and can include grommets and other hardware.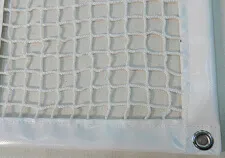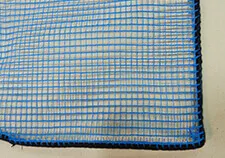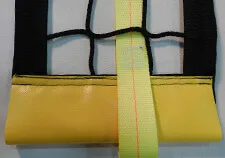 Lining
Various lining methods are available when purchasing custom netting. Debris liners can be added to cargo and other types of nets to prevent passage of debris large and small. Safety lining can applied to custom nets to add additional fall safety protection when personnel safety is a concern. Our sales engineers will assist you in choosing the most appropriate liners for your specific application.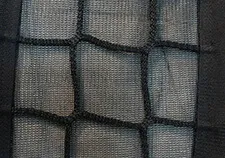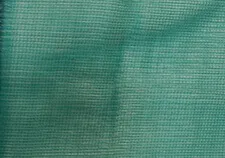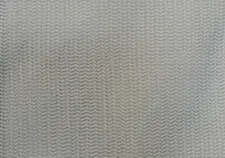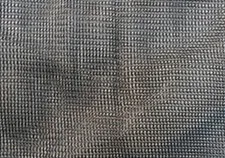 Netting Hardware
Hardware is one of the most important things to consider when designing a custom netting solution. Without hardware you would have a hard time attaching your net to surfaces or points of application. Hardware also allows for easy adjustment of nets for secure and tight fits.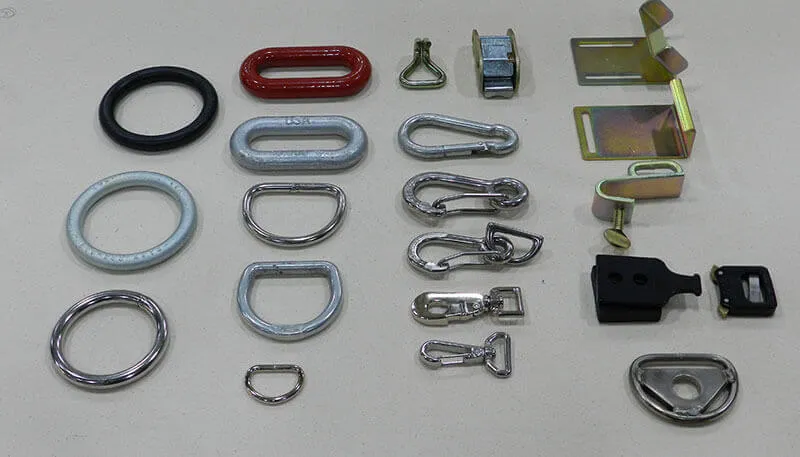 We offer a wide variety of standard hardware for use with your nets. These include items such as snap hooks, rings, ratchets, cam buckles, and many more pieces of hardware. We also can design and fabricate custom hardware to accommodate any of your application's needs. For more info on netting hardware view our short hardware attachment video guide.
How to Find the Right Net
Here are some general questions to answer that help cover basic design issues to be considered when ordering a net:
What sort of strength requirements are involved in your job?
What environmental factors will be acting on your net?
Is debris containment a requirement?
Does your net need to be approved for fall safety?
What kind of attachment points will be used on site?
Will the area being covered or secured by your net vary?
Standard nets
We sell many different types of standard net configurations in specified square footage. These nets can be separated into three categories : Commercial Netting, All Purpose Netting, and Sports Netting.
Commercial netting includes items such as loading dock safety nets, rope cargo nets, truck and trailer cargo nets, and general cargo nets. All Purpose Netting is netting that has many different uses for each net type. These include bird netting, pond netting, shade cloth, decorative rope netting, and privacy fence. Sports netting includes nets for specific sports and outdoor uses such as hockey nets, batting cage nets, camouflage nets, gym curtains and nets, and mosquito nets.
Custom Nets
US Netting Inc. specializes in custom netting design and fabrication. We can use any material available to create a custom netting solution for any job you may have. As you have seen the choices to consider when making a net are many. This means that the possibilities are nearly endless when designing a net. Our list of customers is constantly growing and includes high profile organizations such as NASA and companies supplying netting for film and television productions. These customers have relied on our knowledge and quality workmanship for some of their most important jobs and trust the level of safety and utility that our products provide. Just fill out a custom net request for quote or call us today and our sales engineers can help you begin putting our years of experience and expertise to work for you.