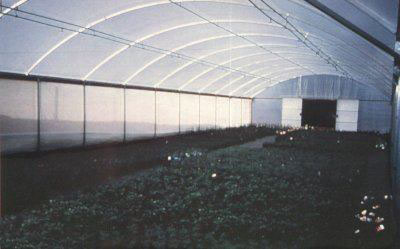 Shade Cloth Features:
Better ventilation and water permeable — Open lockstitch design reduces wind speed and heat build-up in structure.
Lightweight and easy-to-install — 20-25% lighter than woven shade cloth with dramatically more strength. Can be cut on site and will not unravel.
UV Protection — UV resistant, high density polyethylene
Wide widths — Available up to 34 feet.
Chemical resistant — Resists horticulture chemicals, sprays and detergents.
Reduces soil moisture loss — Less evaporation
Tough lockstitch knitted construction — Resists rips, tears and fraying. Shade levels remain constant during product life.
Cost effective — No edge taping and minimal sewing required thanks to knitted lockstitch.
Crop Protection for UV and Heat Sensitive Plants
Other applications include windscreens, temporary fencing, tennis courts, hail protection, bird netting, swimming pool covers, truck tarps or anywhere shading or cooling is desired.

Taped Edges with Brass Grommets available on all shade cloth. Note: All borders are black.
NOTICE: ALL SALES FINAL!
All shade cloth is cut-to-order and therefore is non-returnable. $75 Minimum Order for each piece of shade cloth ordered.
Color Guide
BLACK — multipurpose with greatest choice of shade values & widths. Ideal for every application. Naturally resists the sun's harmful UV radiation for years.
WHITE — reduces heat build-up by reflecting the sun's powerful radiation. Improved light diffusion underneath. Aesthetically pleasing.
GREEN — for nursery and other decorative and agricultural applications including windscreens, privacy screens, tennis courts and more.
ALUMINET — maximum radiation reflection on both sides, night and day. Substantially reduces heat build-up in greenhouses, skylights, patios etc. Maximizes light diffusion underneath. Has a cooling and high tech appearance. Ideal for retail garden centers. Technical Details

PLASTIC NYLON HINGED GROMMET FASTENERS
Covers a larger surface area on the fabric for strength and stability. These do-it-yourself on-site fasteners are easier to use than conventional grommets.
| Item No. | Description | Price | Order |
| --- | --- | --- | --- |
| SCGR-0001 | Plastic Nylon Hinged Grommet Fasteners | 53¢ each | Add to Cart |
CUSTOM SHADECLOTH FABRICATION AVAILABLE
If you would like a consultation for custom shadecloth products send us an RFQ and we will get you a quote at no charge.Click Here To Request Quote