Shade Cloth Decorative Brown 70%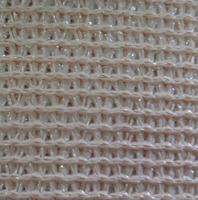 Product Code: SC70-BRW
Shade cloth ordering options
Choose an edge style and enter your desired dimensions and our calculator will price the order automatically.
Webbed Border will be bordered with brass grommets placed every 24". If you have a special request please call 1-800-331-2973
Decorative Brown 70%: Order Calculator
Decorative brown shade cloth is well suited to use in the fields or on the patio. Brown shade cloth supports proper ventilation and is water permeable. The open lockstitch design reduces wind speed and heat build-up in its structure.
Some Important Features
Lightweight and easy-to-install HDPE shade cloth is 20-25% lighter than woven shade cloth with dramatically more strength. Can be cut on site and will not unravel.
UV Protection UV resistant, high density polyethylene
Tough lockstitch knitted construction Resists rips, tears and fraying. Shade levels remain constant during product life.
Have shade cloth cut to length. Enter the width and length you desire and specify a border option. Regular cut edge or webbed border with brass grommets (every 24") is available. US Netting fabricates all shade cloth in the USA.