Defender Gate™ 10 Barrier System
Defender Gate™ 10 with Safety Guard
The Defender Gate™ 10 with Safety Guard attachment from US Netting. This package is comprised of the Defender Gate™ 10 and the Safety Guard attachment. This attachment adds an additional barrier below the rail of the gate to protect fallen personnel and rolling materials from entering restricted areas or falling off a ledge.

| Product Code | Gate Size: | Option |
| --- | --- | --- |
| DG10-6-SG | 6 Foot. | With Safety Guard |
| DG10-8-SG | 8 Foot. | With Safety Guard |
| DG10-9-SG | 9 Foot. | With Safety Guard |
| DG10-10-SG | 10 Foot. | With Safety Guard |
The Defender Gate™ 10 barrier gate has an unmatched design within the loading dock industry. Besides power tools, each shipment includes everything you need for installation. Machined, fabricated and assembled in the USA, the Defender Gate™ 10 is the last barrier gate you will ever need. The gate features all-steel construction and stands 42" tall. Heavy duty steel plate hinges contain 1" pivot pins with oilite bronze self oiling bushings. Prevent loading dock falls with the best impact barrier on the market. Our Safety Guard attachment is also available to meet the OSHA 1910.29(b)(2) mid rail requirement when the guarded area is an elevated surface.

Defender Gate™ 10
Stops a 13,500 lb. forklift traveling 6.5 mph!
Proudly USA Made
Powder coated yellow at 42" in height
Locking gate mechanism for Safety
Superior Personnel Protection
Zero Maintenance Required
Effortless closing/opening
Call us at 1-800-331-2973 for pricing!
Featured in Modern Materials Handling!
The Defender Gate™ is featured in the Modern Materials Handling Casebook 2018. See how Oscar Winski improved their facility with dock safety gates: Modern Materials Casebook 2018
Crash Testing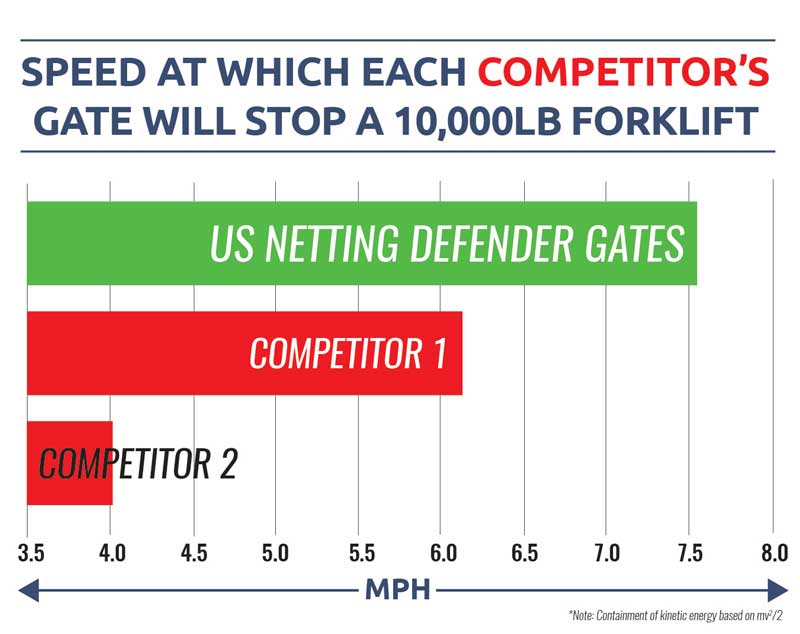 Handing & Placement Diagrams
Custom Sizes & Configurations Available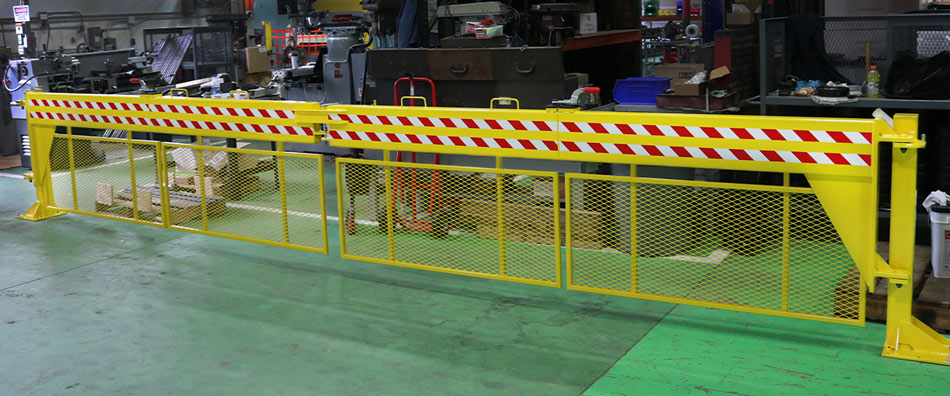 Testimonials
The Defender Line: Safety Barriers and Loading Dock Products
Loading Dock Safety Barriers: Extreme Strength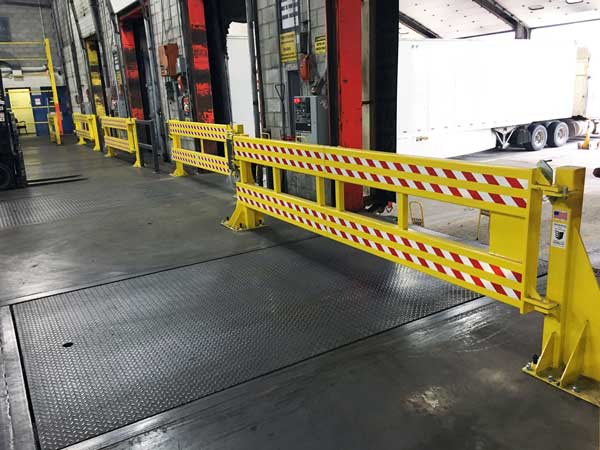 Loading dock safety gates have made the dock safety chain obsolete
US Netting has taken the concepts behind common loading dock barriers made with static materials such as metal guard arms, chains, and screens, and improved upon them in every way. The Defender Gate™ safety barriers provide extreme protection unlike dock safety chains and PVC arms which provide little to no protection. Our barrier gates are man made in the USA with an all steel construction. We remain unmatched when it comes to strength, quality and customer service.
Combine all of this with the ease of our one man install and you have a safety barrier system that offers more protection, takes less damage, thus requires zero maintenance, and is as easy to install as it is to purchase.