GUARDIAN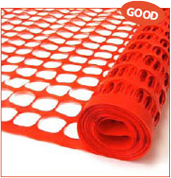 ---
Guardian is a lightweight visual barrier suited for use around construction sites or in crowd-control applications. A highly noticable barrier with oval mesh openings, Guardian is UV protected. Guardian is our most popular and best selling barrier.
SAFEGUARD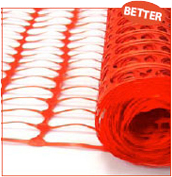 ---
Safeguard is specifically developed for warning and signaling of road work, obstacles and dangerous areas. Its light weight and flexibility allow quick and easy installation, making it the ideal solution for short term applications.
BEACON PLUS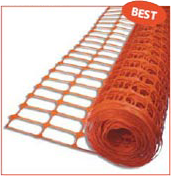 ---
Beacon Plus is designed for protection around construction sites and manholes, or for use as a property delineator. Its bright orange color is sure to be noticed and its manufacturing process guarantees strength and durability.
| Size (in feet) | Mesh (in inches) | Color | Price |
| --- | --- | --- | --- |
| 4' x 50' | 1.75" x 1.75" | Orange | $45.00 |
| 4' x 100' | 1.75" x 1.75" | Orange | $75.00 |
| Size (in feet) | Mesh (in inches) | Color | Price |
| --- | --- | --- | --- |
| 4' x 100' | 3-1/2" x 1-1/2" | Orange | $80.00 |
| Size (in feet) | Mesh (in inches) | Color | Price |
| --- | --- | --- | --- |
| 4' x 50' | 3-1/8" x 1-3/4" | Orange, Green | $80.00 |
| 4' x 100' | 3-1/8" x 1-3/4" | Orange, Green | $145.00 |