Wire nets help to keep job sites, workers, and passers-by safe from natural and industrial or construction debris.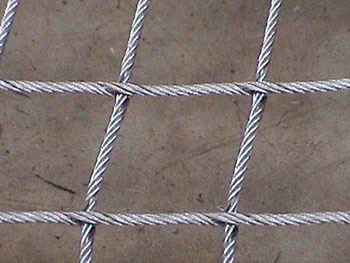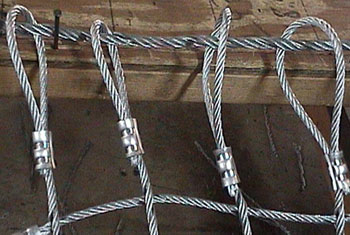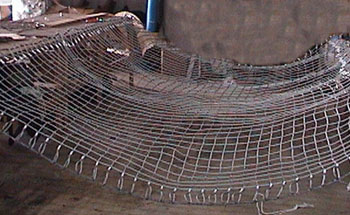 Some of the most difficult debris to contain is the debris generated by nature. Falling boulders, landslides, and unstable ground create hazardous conditions for residential neighborhoods, motorists, road and rescue crews, and industrial sectors.
Wire nets spread across hills and cliffs can help protect people, roads, and buildings from landslides. Wire nets hoisted and extended beneath work sites can protect by catching falling debris before it causes major damage.
In addition to their capacity to withstand and help counteract natural phenomenon, wire nets also help protect construction and industrial sites from debris.
A single wire net is strong enough to catch multiple falling concrete slabs. Placed under bridges and beneath road crews, wire nets help prevent loss of materials and loss of life due to slip and fall.
Wire nets retain strength in water and are immune to rot and most chemical and elemental damage.
Wire nets can be made to fit any standard hardware attachment and can be used from horizontal or vertical suspension systems.
We construct wire nets in any mesh size with a wide range of wire rope measuring anywhere from 1/16" to 1/2" in diameter.
Our wire nets can be made to any specific shape or size and are flexible enough to wrap around boulders, but strong enough to help contain landsliding rocks and stones.
Galvanized and stainless steel are available on any size wire net. As per our standard, wire nets come with hand-spliced steel loops that hold each net securely to any standard hardware and accommodate crane hooks.
Steel wire nets are an all-inclusive solution to safety problems in the most heavy duty situations: they help to protect bystanders, workers, materials, and the environment.
They work in a preventative capacity to help keep roads clear and to keep debris from falling. They stand up to the most extreme weather conditions without sacrificing strength or durability.
For the most difficult to contain debris, few safety tools can offer the same degree of protection as these steel wire nets.
---
Preparing to torture-test a steel net.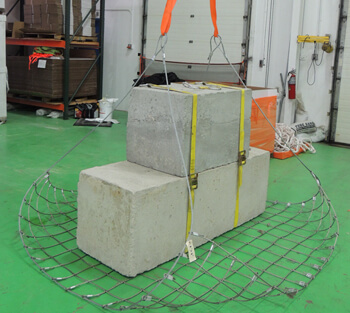 Steel net test successful!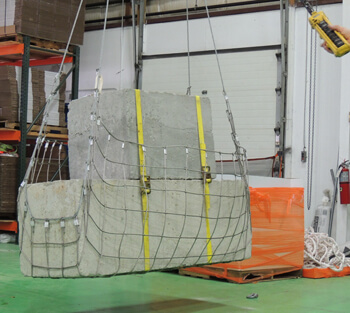 ---
Steel net manufacturing at our facility...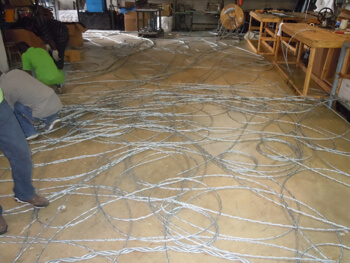 Steel net nearing completion.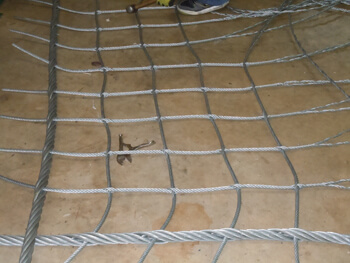 Steel net installed.